Still reigning, still smiling, after 60 long years!

 

 

 
The Glorious Queen Elizabeth Rose

 

 

 

 

 

 

What well worn words might suitably portray, a gallant monarch, fitting for today? With lovely scent to pleasure every nose, who can tell whence England's beauty, so like a luscious, living rose , grows and grows and grows and grows, that once blushing bud awakening in May, now defying trials, though unavoidably nearer repose, ignoring pain defying change and gray, beyond cruel killing frost, outside the snowy part,  protected by warmed inner walls within ones heart.

 

As for tomorrow, just who is so impertinent as to say, shall a sovereign's splendors slowly pass away? Will a winter's desolation succeed autumnal chill, or instead, the hopeful renewal and warmth of spring? Who pretends to ever know this sort of thing, what kind of queen tomorrow then might bring?   

Still reigning, still smiling, after 60 long years!  Who has worked harder or better, and so long, at a tiresomely thankless job, and still done nothing wrong, but the lovely Queen of England, HM Elizabeth II; not the show of lyric poetry, but sustaining as great prose, her elusive omnipresence like the fragrance of a rose?
April 21, 2012, is Queen Elizabeth's 86th birthday, (as opposed to her "official birthday", celebrated on the first, second or third Saturday, in June not in April, never in May). Today is the 60th anniversary of Her Majesty's accession to the throne.
 
 

All her life the Queen has worn memorable hats.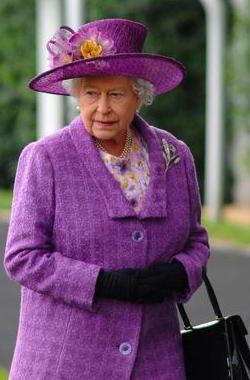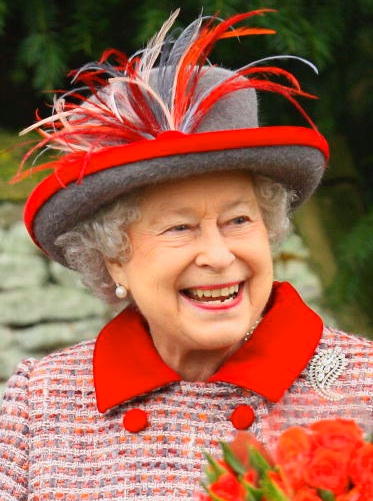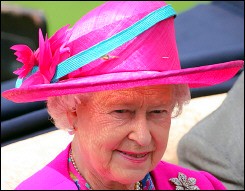 What on earth might one get, to recognize someone held so dear, someone special who, for all intents and purposes, I fear, already possesses everything?
To edify her regal deeds, she's lots of ropes of lustrous beads, enhancing equally, silks or tweeds, no matter what she wears. No long blond wigs, or weaves, or rats, the Queen has many lovey hats. Hats, which from in her early youth, she's worn throughout the year in truth, to lend events, in open air, where one might wish to spare one's hair or shade one's eyes from blinding glare, a jolly spot of welcome cheer, her's are distinct, beyond compare. Handsome handbags also, it's most excellently clear, are indispensably favored as proper queenly gear.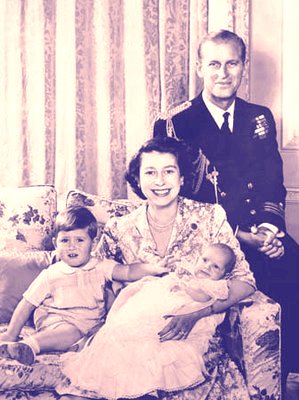 In 1949, then Princess Elizabeth, and Prince Philip Mountbatten had been married for two years and already produced, 'an heir and a spare', Prince Philip and Princess Anne.
She wed her distant cousin, a Royal Prince of Greece, though devoid of Greek ancestry, and without a golden fleece. As with any other mother, as with any other bride, her young family and smart Clarence House, were sources of great pride.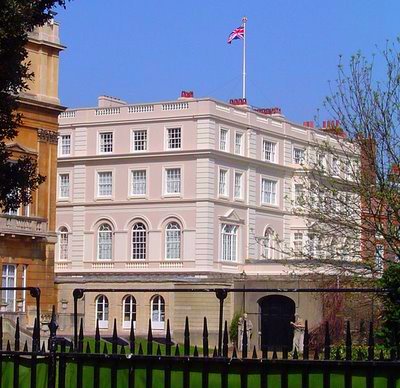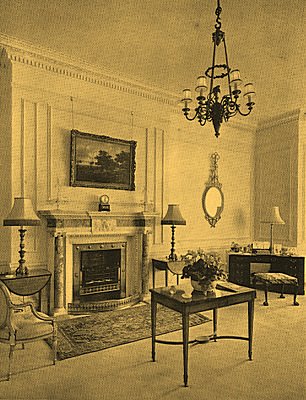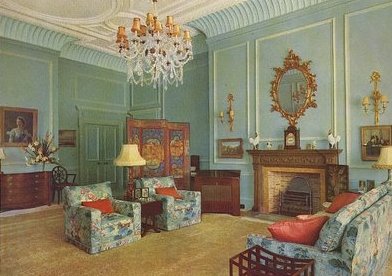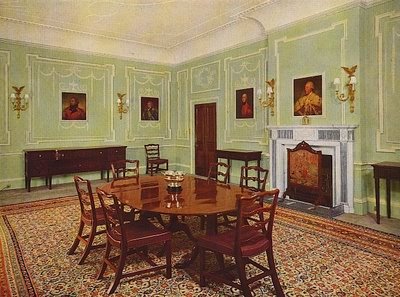 Neither squandering her pounds nor holding tight her pence, Her Majesty has had, as it were, so many mansions since. Each boast iron gates decked out in gold, and there are fully four all told. With its Rockingham, and Sevres, with old Minton and fine Spode, oh so elegant, Buckingham Palace is her most famous abode. Designed by Sir Aston Webb,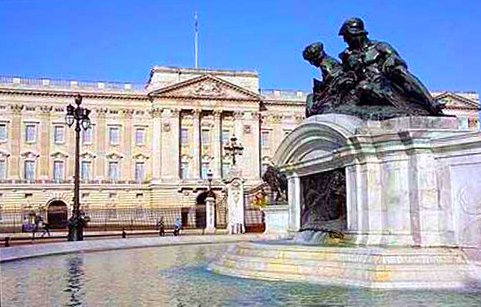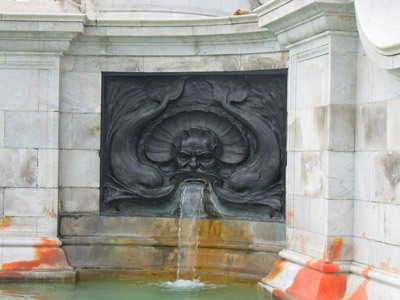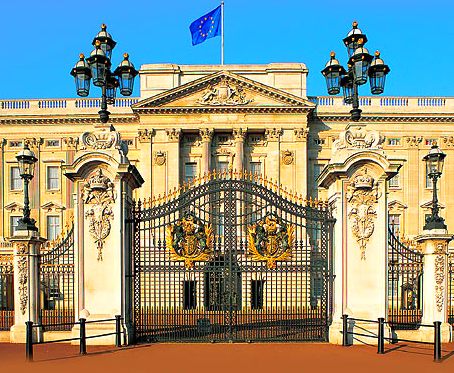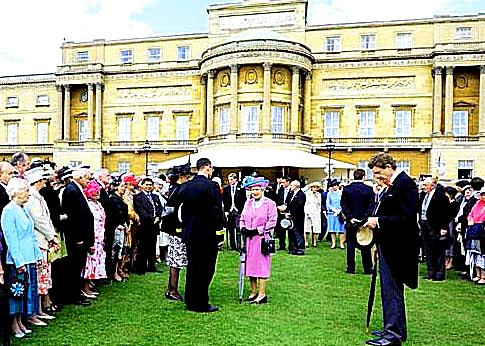 finely faced-with Portland stone, set on Green Park quite alone, at the summit of the Mall, is this still unbroken spell that's the setting of the throne. Here, on any viewing day, all are free to come to pay and how happily some roam, thinking how they'd like to stay; but her silken standard flying, lets one know to go away. One would hardly want to roam, when it's plain the Queen's at home!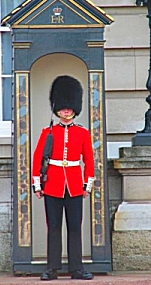 She has guards with scarlet tunics and bearskin hats behind the gate, who assure the best security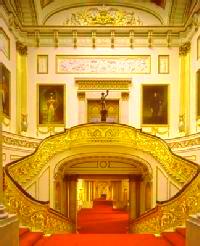 for splendid rooms of state.

Sequestered beyond grand ante-rooms, where the family seldom dwells, are intimate apartments where the heating never fails.
Within a lofty drawing room, that's painted white and gold, a looking glass swivels open, atop a mirrored commode, a heady scent prevails, the atmosphere is hushed, the party stands alert, the monarch to behold!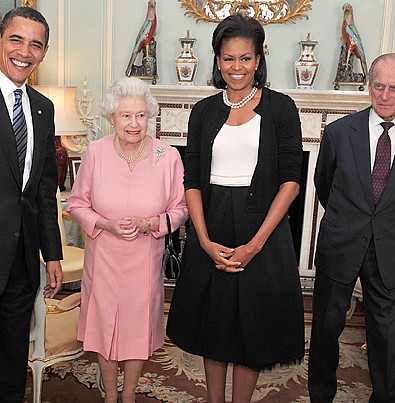 In the White Drawing Room of Buckingham Palace a secret door, concealed by a large looking glass and table, give access to the queen's private apartments, one of which is shown above. The queen wears one of the world's largest pink diamonds. Mrs. Obama wears a frock by Isabel Toledo.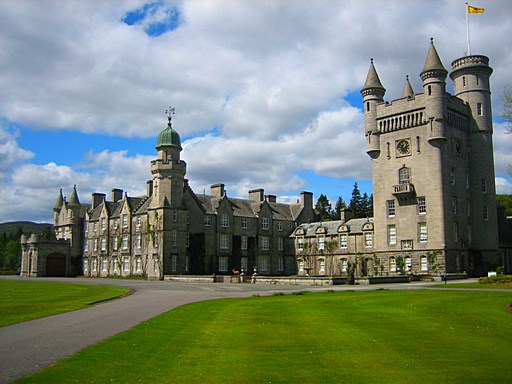 Balmoral is in Scotland, a stout realm of Godly deeds and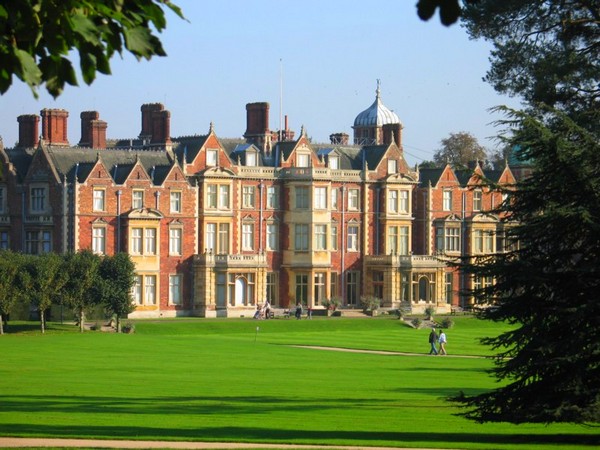 Sandringham is in Norfolk, in its garden without weeds.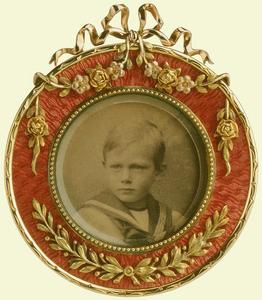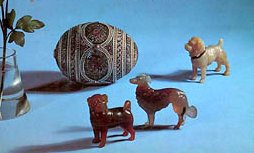 Behold the Goya tapestry, what splendid Faberge, from ever-lasting flowers, to long lost Royal pets at play.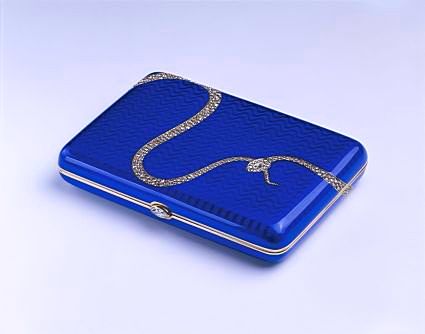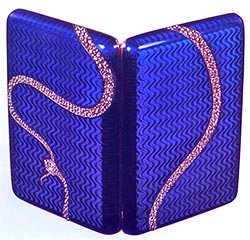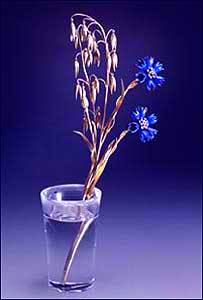 Mrs. Keppel gave grand presents, she was such a dear old thing, her cigar case with pave' diamonds, shows a serpent, serpentine and biting its tail. See it slither in blue enamel, with a luster that won't pale, as each picture tells a story, every present, tells a tale. There's a rooster and a jaunty hen, her chick beneath her wing,

 

1910: Gifts to King Edward VII, the Queen's great-grandfather, from his mistress, Alice, Mrs. George Keppel, included the dog Caesar, shown following his master's coffin .

there's a little crystal vase and a small dog on a string. The inscription on his collar might even charm an austere scholar who reads, "My name is Cesar, I belong to the King." In short, at Sandringham her Majesty has out all on display a most glittering array of everything by Faberge!
 
 

Queen Elizabeth has also always had dogs, her family of Corgies is famous.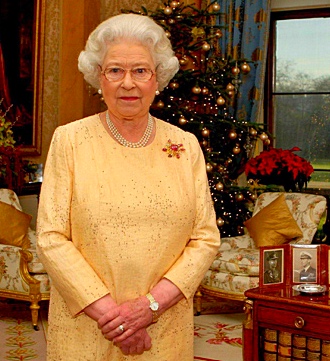 Her Majesty delivers her Christmas message to the Commonwealth from Sandringham.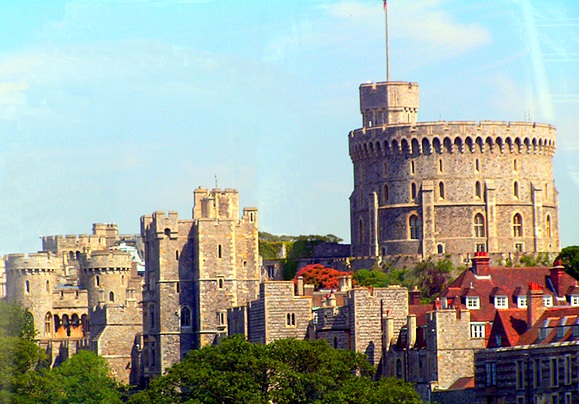 Great Windsor is a castle, with a tower, on a hill, and sterling silver furnishings adorn its chambers still! Nearby is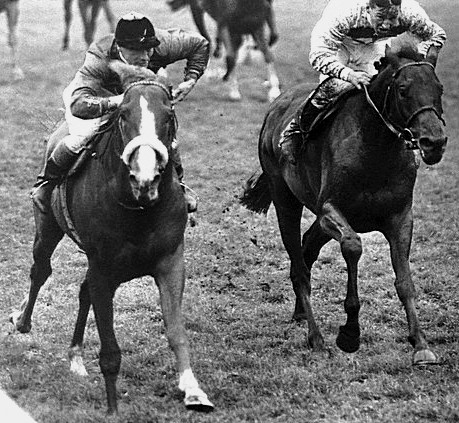 Royal Ascot, where the Queen too, owns the course, and she sometimes backs a winner as she often runs a horse.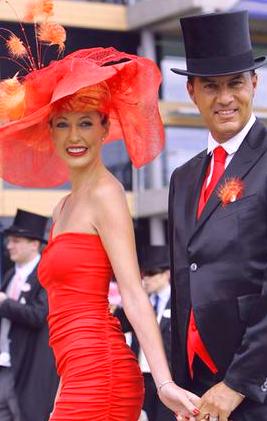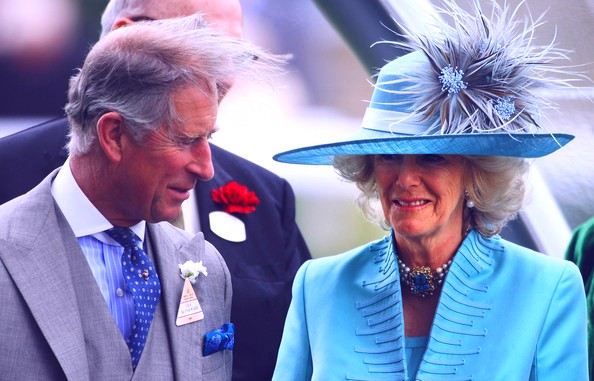 Spectators always wear their best attire in Royal style, and the Queen, so complemented, always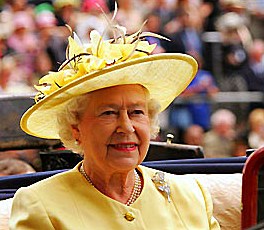 smiles her warmest smile.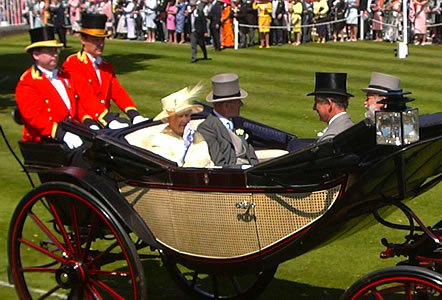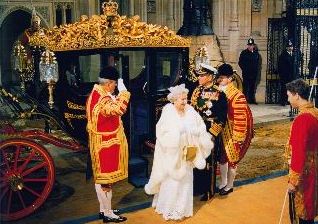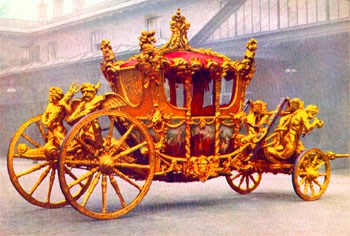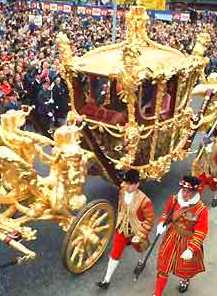 She has her dogs and horses, she has a golden coach, she does not want for fine jeweled necklaces,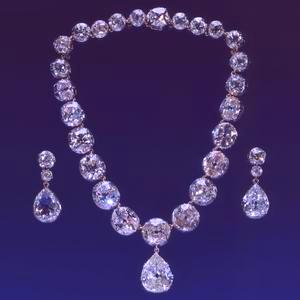 antique earrings, nor one more smashing brooch.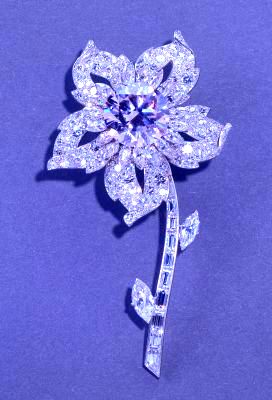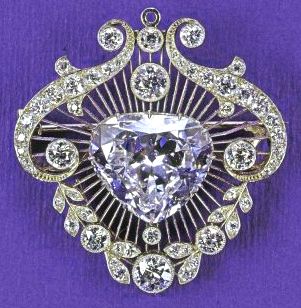 And then there is the apogee of splendor and Royal grace, when magnificent tiaras surmount the monarch's face.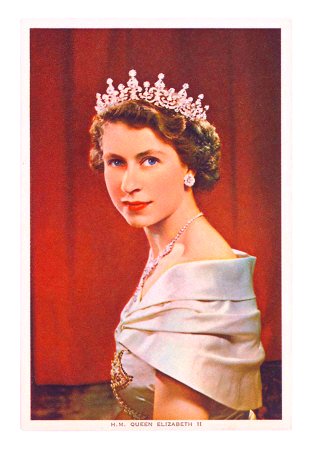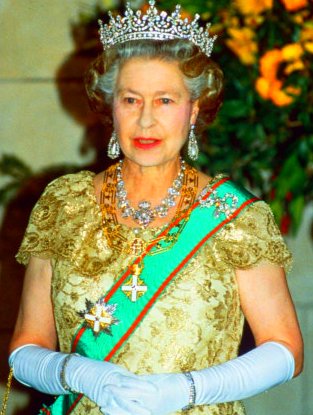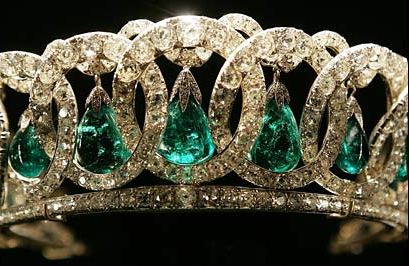 Such ornaments of olden-days, before our days of haste, are unparalleled in great delicacy, unequaled in good taste, usually.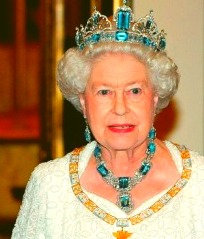 As Barack and Michelle Obama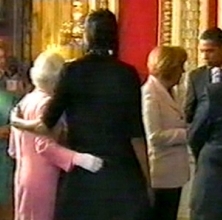 assuredly did so very well, who knows what unsuitable adornments the Queen might concede to consign for sale?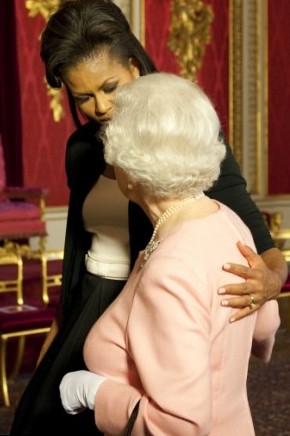 Ah yes, I know, I know, like so much melted dirty snow, many had hoped, with President Obama, for us malcontents to cheer, never, never, ever again to have to stop to hear of reparations!
But recalling the marvelous fun that I had giving presents on a birthday past, I mused what wonderful joy it would be if the wonderful Queen were at last, to apologize? Might Her Majesty to pay into a special fund to elevate and allay, to compensate a little, descendants of many Africans all along the sullied way, where her Royal ancestors issued patents, stealing blacks without their say? Would a few 100 billion pounds be so much then to atone, for the taint of slaves and empire that still compromise the throne? Oh what a victorious, glorious, splendidly uproarious celebration that might be Royal liberation, Elizabethan Jubilee!  
For a long time, disturbed that so much exquisite architecture in America was marred by slavery, I looked to England as an earthly paradise of beauty. How naive it was of me to absolve the originators of the colonial empire that most caused the African slave trade to flourish. Many, many of Britain's stately houses are as closely derived from slavery and misery as any Southern or Caribbean plantation house. 

 


Coat of arms of a merchant grown rich from 'the trade', emblazoned with an appropriate crest. 

 

 

How beguiled I was by Houghton with its corner domes and 'more mahogany used in its interior than any house to that date, 1722-1732'. Duly impressed, where did I imagine that mahogany, and the money to buy it with, had come from? How, other than through the lucrative sugar trade, over several extensive gruesome Caribbean plantations staffed by African slaves, did I figure that handsome William Beckford inherited a fortune which made him England's richest commoner?

  

 

 

 

A portrait of Sir William Young and his large family shows a picture of 18th century wealth in a fashionably bucolic setting. A "conversation piece", this depiction was meant to tell a story. The artist, Johann Zoffany, helped develop this type of piece, positioning the sitters as if they are actors.


The family is wearing a type of fancy dress, 17th century costumes inspired by century-old portraits by Sir Anthony Van Dyck . This type of nostalgia was extremely popular in Britain around 1770. Like the dress and music-making the enslaved servant is a prop in the Young's elegant play-acting.

Georgiana, Duchess of Devonshire, who invented the 'picture hat' which she is wearing. ( from Chiswick House), writing to her mother, circa 1790, 

 

'Dear Mama, George Hanger has sent me a black boy eleven years old and very honest, but the Duke don't like me having a black.... if you like him instead of Michel I will send him, he will be a cheap servant and you will make a Christian of him and a good boy; if you don't like him they say Lady Rockingham wants one.'

  

  

 

 

 

 

 

 

 

 

 

Because, just as I'd suspected William Beckford was Gay, naturally one never suspected that his fortune was obtained from West Indian sugar plantations. In his time, there was little else that was as profitable.  At Beckford's fantastic house, Founthill, the tower collapsed spectacularly, shortly after he sold the estate.

 
 

Jean Marc Nattier's portrayal of Mademoiselle de Clermontat, at her bath, is just one among many indicators of the universal fashion for enslaved servants during the 17th and 18th centuries. The ultimate status symbol, pet-like exotic, dressed-up black pages presisted in grand noble and Royal households as late as 100 years ago.