Even now, in the midst of the 'Great Recession', there are at River House, many quietly detailed duplexes and an intact triplex maisonette, commanding superlative views and phenomenal prices. Some apartments, however, are not quite as grand as others and none as improbable as the long subdivided suite at the building's summit.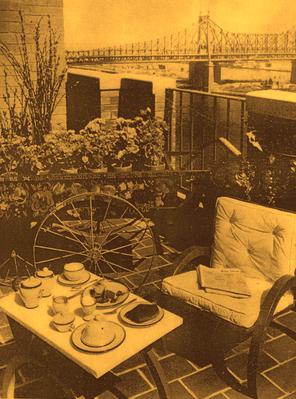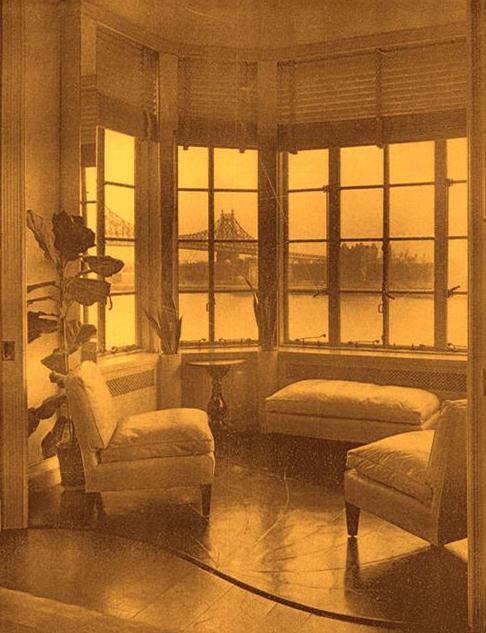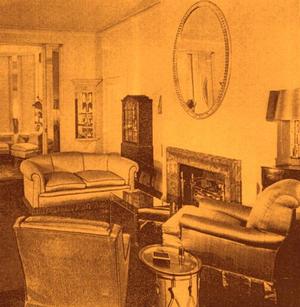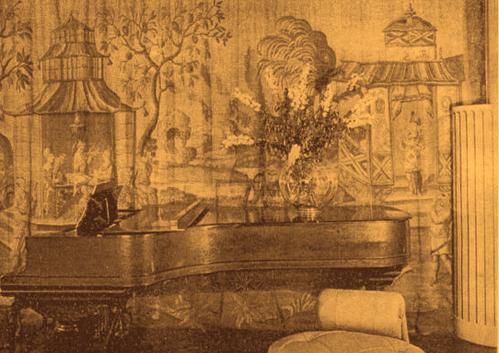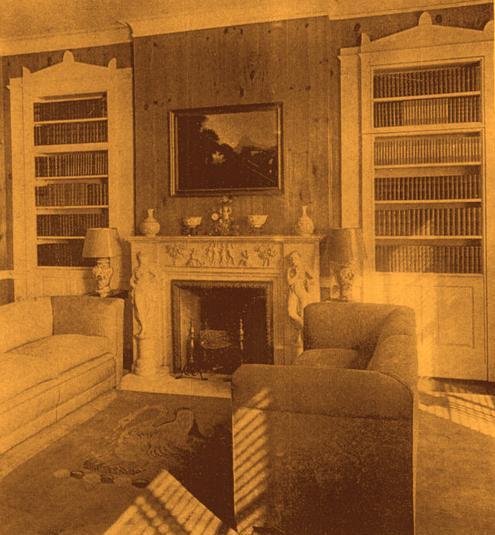 Privileged William Rhinelander Stewart, Jr's 'ground-floor' flat at River House boasted the piano on which Gershwin composed the "Rhapsody in Blue," an Italian marble mantelpiece, from his ancestral home on Washington Square, a carpet woven with his family crest, and a secret door in a library bookcase.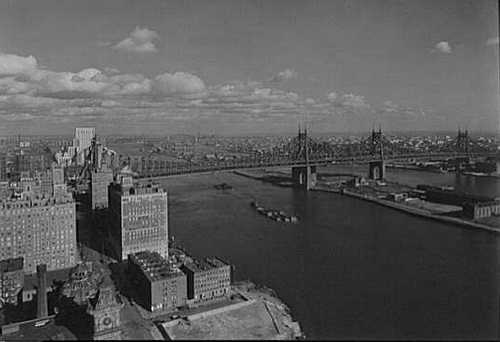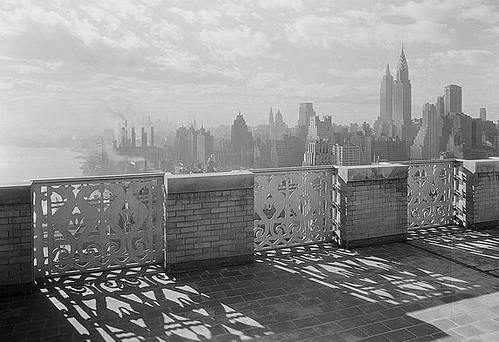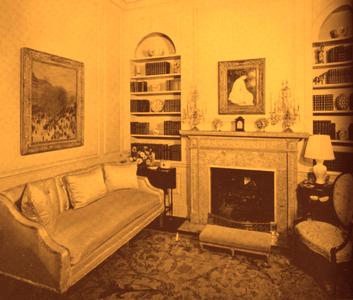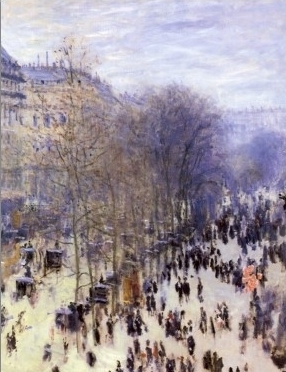 Marshall Field's English Georgian library at River House was adorned by superb Impressionist paintings such as Claude Monet's Boulevard des Capucines.  
Surmounted by a ballroom in the tower's graceful cupola, this most palatial apartment at River House was a triplex occupied by the family of sportsman and publisher, Marshall Field, III. On Sept. 28, 1943, at 50, he inherited the bulk of the $140,000,000 fortune his grandfather had established in his famous department store and grounded in Chicago real estate.
However, even as an Eton schoolboy, Marshall Field was already 40 times a millionaire. In 1917, following Cambridge, he'd helped to initiate a reputation as a progressive by returning to the States to enlist as a private in the army. Returning from France a cavalry captain, despite his connections, Field next became a lowly brokerage salesman; destined to pile success upon success.
He was wed to New York debutante Evelyn Marshall in 1915. Her brother, Charles H. Marshall, would marry Brooke Russell Kuser and become stepfather to the eventual Mrs. Astor's notorious son, Anthony Dryden Kuser, who took his name. By 1925 the Marshall Fields had left Chicago for New York's greater business opportunities and social prospects. Naturally, given Field's English background, English style houses were felt to be in order. Buying a 2,000-acre estate at Lloyd's Neck on Long Island, he built a magnificent Georgian mansion overlooking Long Island Sound. At Caumsett, a Georgian stable, numerous cottages and barns, a boathouse, a power plant, and a 20-car garage complimented the 'big house'.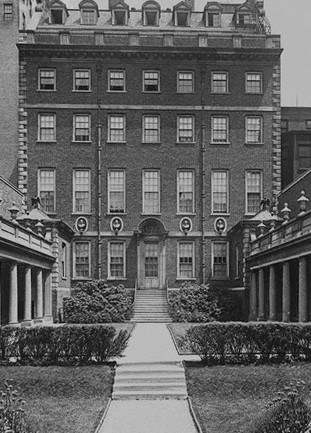 In Manhattan, Chicago's most revered residential architect, David Adler, designed for the couple another lavish neo-Georgian residence, at 4 East 70th Street. One of the largest and most elaborate private houses ever built in the city, it stood for a mere 10 years.
When his first wife divorced him in 1930, Marshall Field gave her an uncontested $1,000,000-a-year income and custody of their three children. Two weeks later he acquired an English-born wife to preside over his English style abodes. God-daughter of King Edward VII, Audrey James Coats was a socialite and widow of a British Army captain.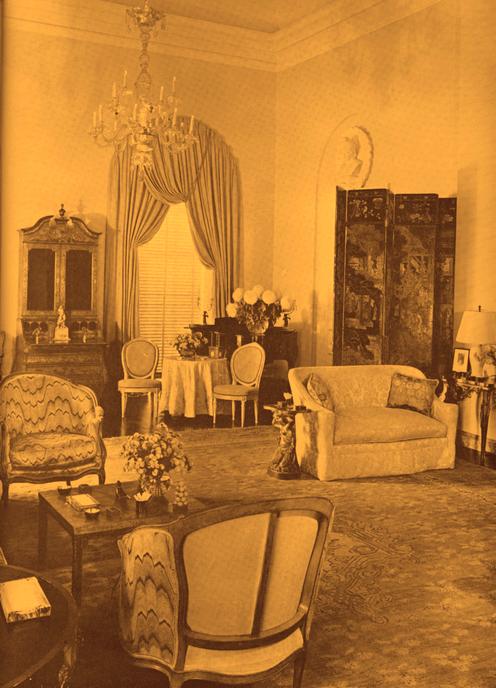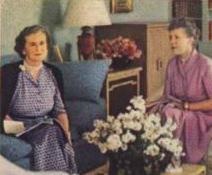 Mrs. Diego de Suarez, the first wife of Marshall Field, is advised by her decorator, Eleanor McMillen Brown. Mrs. de Suarez's double-height Drawing Room was designed by her husband in collaboration with Mrs. Brown.
 

If in the aftermath of their divorce Field's second wife returned to England and 'civilization,' the publisher, his children, his first wife, and her new husband, Diego de Suarez an architect, were happy enough to live conveniently apart, but close by, at River House. And, offering solid proof of the building's unmatched social connections, when Field and his best friend's former wife Ruth Pruyn Phipps were married in 1936, the ceremony and reception took place in her parents' River House apartment.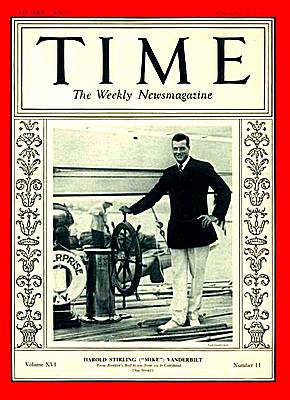 Harold Stirling Vanderbilt, who twice defended (won) the America's Cup, also invented contract bridge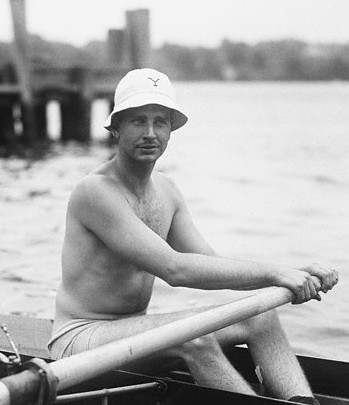 Long after leaving Yale, Cornelius Vanderbilt Whitney remained a keen rower.
The splendid Harold S. Vanderbilts, the Cornelius Vanderbilt Whitneys, the James A. Burden, Jr.s, the Harry Cushings, the William Rheinlander Stewart, Jr.s,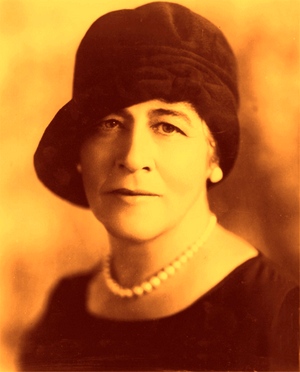 New York City congresswoman Ruth Baker Pratt, and three of the city's leading architects, including William Lawrence Bottomley, who designed River House, Maurice Fatio and ...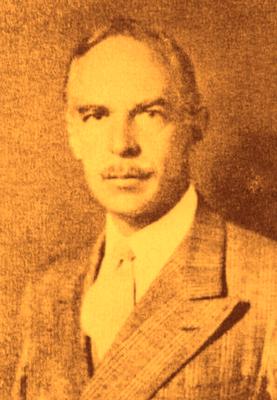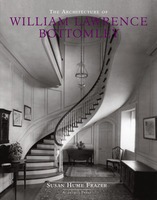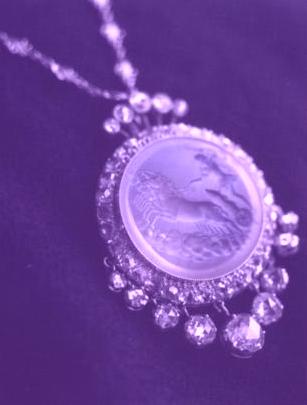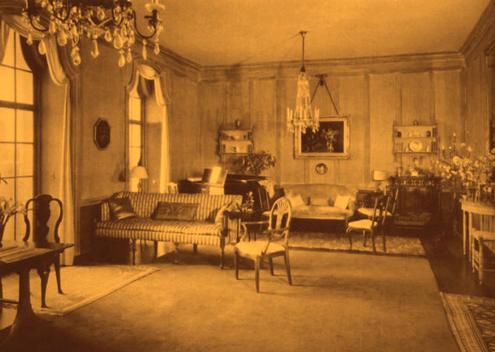 the subject of an exceptional monograph by Susan Hume Fraszer, William Lawrence Bottomley, was born and reared in Harlem. He designed River House in close association with his partner Sidney Wagner. Seen above is an engraved moonstone and diamond pendant Bottomley designed for his wife and the staircase, (forged by Hunt Dietrich), and Drawing Room of their River House triplex, which the Depression would force them to divide.

Archibald Manning Brown, whose second wife Eleanor was the founder of the distinguished decorating firm, McMillen Inc., all helped to give the building a very patrician character indeed.
Architect Archibald Manning Brown, with his first wife,  Caroline Helen Parrish Brown, was all set in 1932, to move into a new sun-filled, duplex maisonette that opened directly onto the River House garden. Representing the height of fashion, the Browns' apartment was a tribute to Scandinavian proto-modernism.

But after so much planing and anticipation, tragically,  for her husband and their children, Mrs. Brown died. Worse still, afterward, the Browns could not afford to live there. Happily remarried in 1934, to Eleanor McMillen, the well known interior designer, Brown reluctantly moved into his wife's apartment at 447 East 57 Street. One imagines that the pair likely met when she decorated the abandoned River House flat?
As the images above and below clearly show, over 80 years the decor here has changed dramatically. 
The Reception Room, before and after! 
1893: The Brown  siblings, Charles S Brown Jr, Lathrop Brown, Lucy Brown, and Archibald Manning Brown. '
Charlie', went on to head the family's real estate firm – Brown, Harris Stevens, became a congressman and presidential confidante; 'Lucy', who married artist William L'Engle, became a famous painter and 'Archie',  became a highly regarded architect.

Mr. and Mrs. Lathrop Brown
Engaged in his family's New York real estate business, Archibald Manning Brown's younger brother, Lathrop Brown, also served  a United States Representative. Friends since their time at Groton, he was Franklin Delano Roosevelt's college roommate at Harvard. 
1934
As Lathrop Brown and his wife Helen Chamblet Hooper Brown, were quite rich, not only did they take over the apartment his brother could no longer afford, but they hired his wife to redecorate it. In addition, they commissioned Archibald Manning Brown to design a large modern country house at St.James on Long Island. Now the Knox School, they never inhabited it.
 2010
Indicative of the importance mirrors, curtains and architectural elements lend to defining an environment, the dining room, in what started as the Brown apartment at River House, seen in these views from over the years, hardly seems to be the same space!  To be continued...