How odd that Harlem's leading inn of the 1850's-1870's, River House, stood above the banks of the East River. What an ironic coincidence that the architect for the 1930's most deluxe tower for the affluent also led the team that planned the Harlem River Houses, some of the nation's first federally subsidize housing for the poor, built in response to the Harlem race-riot of 1935.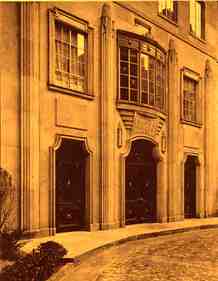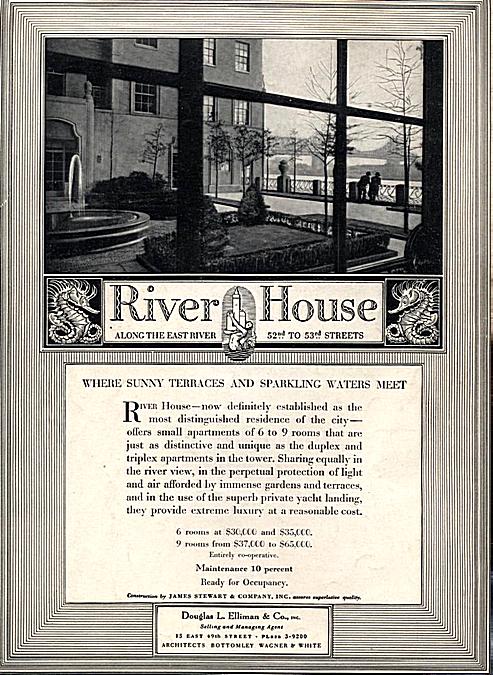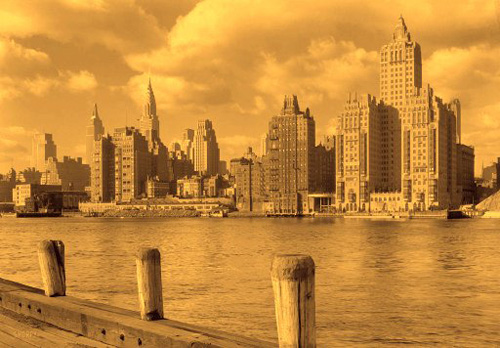 Odder still is how I, an unknown from the provinces, black and gay, first found myself at lofty River House. The short answer is easy, it was a fortunate accident. I had wanted to find and explore the refined building since first seeing an article announcing its opening in the January 1932 issue of Arts & Decoration. This edition was among hundreds of old magazines in my friend Laura Schellschmidt's attic. Most now reside at the University of Akron's Bierce Library Archives, but I still have that number, so significantly featuring River House.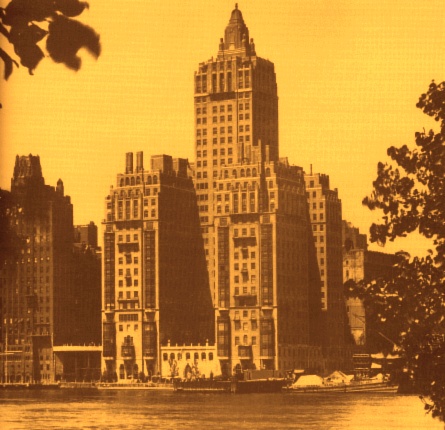 In 1982, newly 'out', coming to New York for the first time as an adult, my main objective was to meet direct descendants of the Perkins family who had founded Akron, Ohio in 1825 and built its imposing Stone House in 1837. Mrs. James Kellum Smith, the wife of an architect, was a member of the Lowman family, who were close Perkins relations. I was completely bowled over by her apartment in the Studio Building, by Charles Adams Platt, with its enormous double height dining room. Given a pleasant lunch of chicken salad with cool, dry white wine, beguiled by a fascinating exchange of Perkins lore, inevitably I was late for my meeting with her unknown cousin George Perkins Raymond and his wife Marta, a Swedish aristocrat.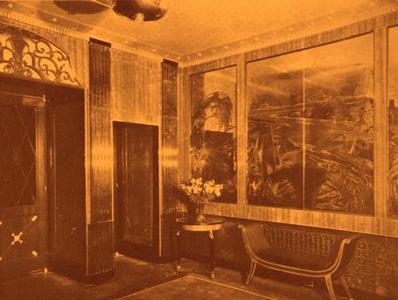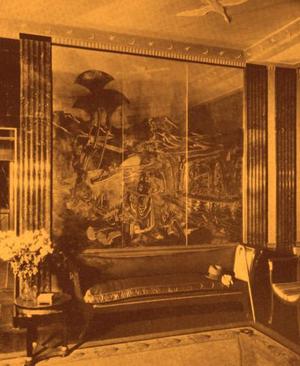 I so lamented leaving such a nice and unusual talk that I momentarily even thought of calling to say I'd been unavoidably detained. Anyhow I had no idea, then, where East 52nd Street was in relation to Lexington Avenue at 66th Street. The only thing certain in those pre-cell phone days was that having just 20 minutes to reach my appointment, I was obliged to take a damned cab which, I could ill afford!
Loaded with one of my drawings, books and photo copies showing deceased Perkinses, using the interval to straighten my tie and organize my props; the ride had taken no time at all, and cost just $5.00.
Passing through the iron gates, before pulling into the cobbled forecourt, I hadn't even noticed the East River.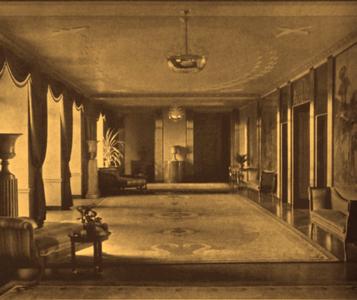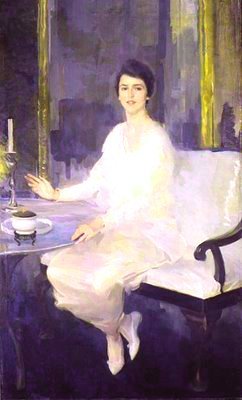 The tranquil River House Lobby and interiors of the River Club were designed by socialite Mrs. Samuel L. Barlow, who decorated under the name Ernesta Beaux. She began her career as Harry T. Lindeberg's in-house interior designer and was painted several times by her brilliant aunt, Cecilia Beaux. Mrs. Barlow was ably assisted by her friend, the English-trained South African painter Jan Juta. Heir to a publishing fortune, related to the Astors, Juta supplied an elegant eglemosie Mexican-fantasy landscape to adorn the apartment entrance. It is as surreal as it is decorative. To learn more about the well-connected artist, please see the insightful post of Aestheticus Rex, here,  Thursday, April 22, 2010 .  Inside the swell-egant lobby, like a drawing room from a Noel Coward farce, racing towards the indicated elevator, I'd just glimpsed the silver-gray ribbon of water beyond the garden through the opened windows.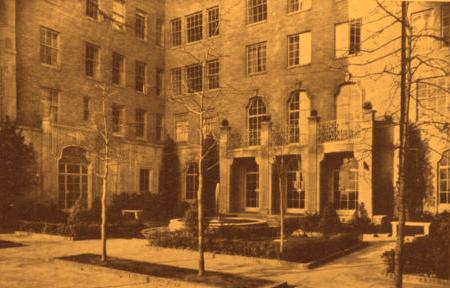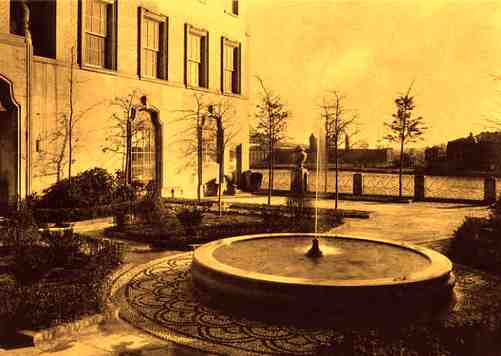 I'd already begun to thank providence for preventing me from missing this so recently regretted commitment, when I spotted the seahorse, above the elevator opening. 'A seahorse,' I'd thought? 'Is this River House,' I exclaimed to the man at the desk? "Yes sir," he responded with an inferred, 'of course it is!'
The New York Times, October 13, 1929, Sunday:
"HUGE RIVER APARTMENT; Will Rise 25 Stories on East Side and Cost $11,000,000. Plans have recently been completed for improving the block front between Fifty-second and Fifty-third Streets on the East River frontage with a towering cooperative apartment structure to be known as River House..."




That President Barack Obama's achievements to date do not match either his intentions or potential, is nothing unusual; not at least for one who embodies such high hopes among many, who harbors such great expectations of himself. Similarly, having neither secured major legislative reform, nor universally changed prevailing attitudes about race and class, when awarded the Nobel Peace Prize in 1964, Martin Luther King was nonetheless a worthy recipient. If in terms of bringing full civil rights and equal opportunity to all, King might correctly even be termed, in some ways, a failure still, the importance, sincerity and transformative impact of his efforts remain commendable, nonetheless.
This also applies to lots of other, far more mundane things, the relative disparity between hope, hype and realization. Take for instance something like the reputation of River House as the most prestigious, desirable, decorous and elegant place to live: not just on Manhattan Island, but in the entire world. Wondering what motivates bankers, brokers and trust officers to insure dubious assets; to sell toxic financial instruments, to issue subprime, uncollateralized mortgages and the like, one need look no further. A River House apartment is that ultimate prize of material success, 'the face that launched a thousand ships,' 'the Golden Fleece' and 'the land of milk and honey,' all rolled-up into one.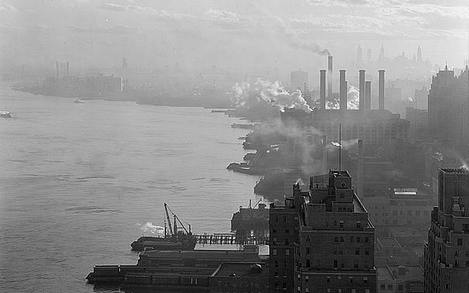 When completed in 1931 this structure epitomizing "swell" living was in a 'slum' district which still teemed with factories and tenements. A humble cigar factory and commercial cabinetmaker had stood on the site where it would rise. The disquieting juxtaposition was mildly mocked in the famous and popular 1936 movie, Dead End that was Lillian Hellman's adaptation of Sidney Kingsley's play. The play and movie, which starred Humphrey Bogart, focus on the not always communal coexistence of the rich in their spectacular tower of luxury and the poor swimming alongside yachts and speedboats moored in the adjacent river off the dead end street.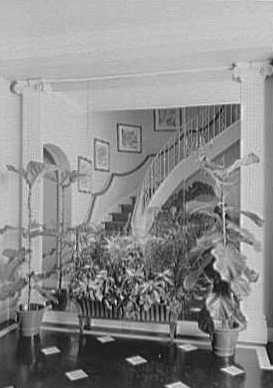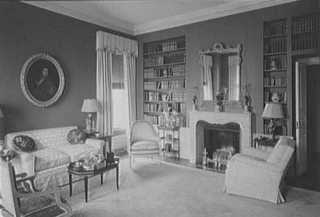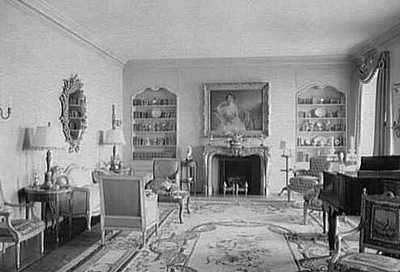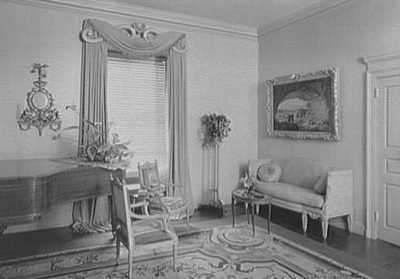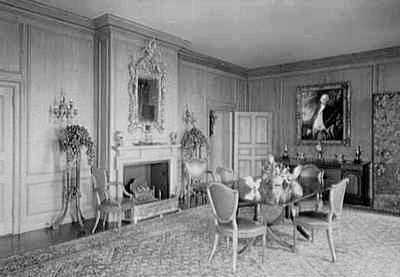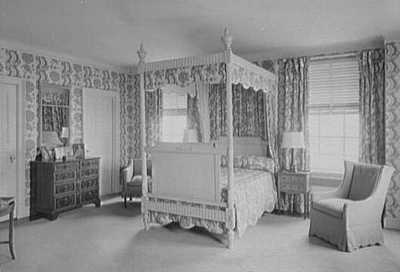 The stair hall, library, drawing room, dining room and bedroom of Mr. Coe, in the River House duplex of Mr. and Mrs. William R. Coe.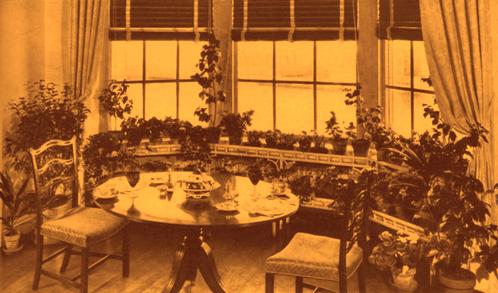 The River House aesthetic...

As designed by Bottomley, Wagner & White, the U-shaped plan of 435 East 52nd Street consists of 14-story wings and a 26-story tower on a 200 by 200-foot plot that runs through to 53rd Street. It originally called for only 64 apartments. Widely designated as Georgian-revival, but actually combining baroque, Regency, and art deco elements, stylistically the innovative building is far more complex than some tame tribute to 18th Century good taste. According to Robert A. M. Stern, Gregory Gilmartin and Thomas Mellins' book, New York 1930, Architecture and Urbanism between the Two World Wars, Rizzoli International Publications, Inc., 1987, River House was, "a critical milestone in the evolution of the skyscraper apartment house type, synthesizing for the first time the tower and the courtyard palazzo base..."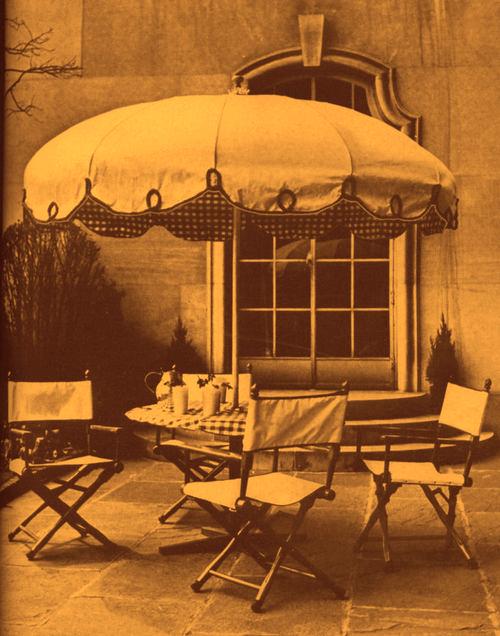 This is the East Side building where Mr. and Mrs. Henry Kissinger live, the one offering what was called in July, 2009, the $28,000,000 most costly apartment marketed in the city. Conceived on the very eve of the last great economic upheaval that crippled the world 80 years ago, by every measure River House ought to have been, from the start, the most tranquil dwelling place imaginable, representing the most stable investment obtainable.
Ironically then, inhabited from the moment it opened in 1931 by some of the nation's richest capitalists, those with the most to lose due to fiscal calamity, instead several times during its glamorous history, River House has been on the brink of spectacular mayhem.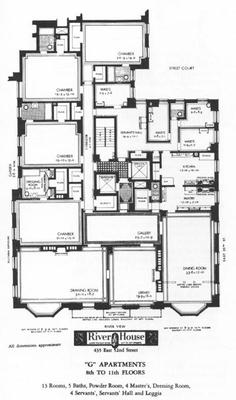 Not unlike some of today's lavishly appointed, newly completed luxury towers, it was greatly feared that an only partly leased building would remain half-empty for an extended and unsustainable period. Certainly it was competitively marketed, with 'small' single-floor units comprising 6 rooms, costing $30,000-$35,000, while those with 9 rooms, ran $37,000-$65,000, (maintenance was 10 percent). It was also skillfully promoted with a spate of decorating, architectural and society features extolling the building's superior qualities from the moment it was contemplated.
 In 2010 novelist Barbara Taylor Bradford offerd her 15 room apartment for sale for almost $20 million.
"Valentine Everit Macy Buys Apartment in River House" the Timesnoted on July 15, 1930, "20-Room Suite in River House Purchased by Edson Bradley", they would herald on August 15, 1930.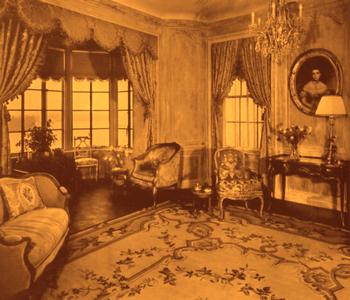 Edson Bradley's River House drawing room
Yet even with purchases by big-name socialites from 'top-drawer' families, the problem of vacancies persisted.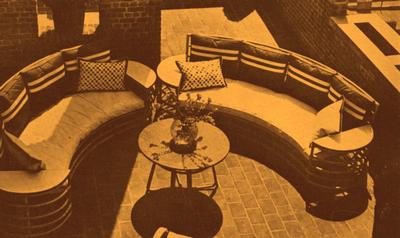 On Tuesday July 15, 1941, the Times announced,
"RIVER HOUSE SALE ORDERED BY COURT; Foreclosure of Big East Side House and River Club to Follow Mortgage Default DATE IS NOT YET FIXED Prudence Securities Corp. Is Plaintiff With Claim of $1,717,951 Now Due..."

Temporarily, this predicament was averted, through the quick intervention of a few shareholders who were only moderately affected by the Depression. Even worse news was yet to come though, and on Friday, May 21, 1948 a Times Headline read,
"LUXURY DWELLERS FACE MOVING CRISIS; RIVER HOUSE SOLD, Buyers Set to Split Up 79 Apartments to Double the Capacity NOTABLES ARE AFFECTED Present Tenants Will Receive Priority for Altered Suites, of Four to Six Rooms. Seventy-nine families, including many well-known in society, politics and the business world, face loss of their apartments in River House...as a result of a sale and reconstruction plans announced ...for the property."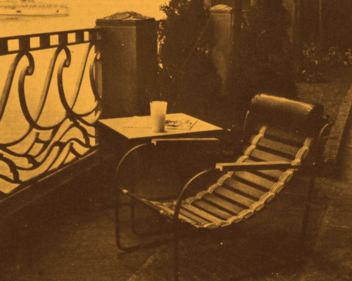 Inhabited by august residents boasting vast numbers of interlocking, favorable relationships, the tide was bound to turn for River House. In 1944, and again in 1948, the burdensome property tax liability was greatly reduced. So it was that in the end, although most triplexes were reduced to duplexes, no one living at the world's best address had had to suffer the indignity of being confined to so few as four rooms.
To be continued...