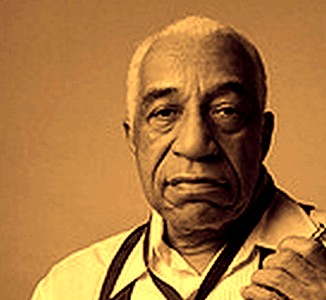 Grafton Trew, the voice of reason.
Women's History Month is a great time for remembering how much it's possible to learn from our elders. Concerning women, much of their accomplishment has been disputed as modest, at best. One can only make so lowly an evaluation by considering history without context. Viewed in relation to biases and oppressive conventions, for women in the past to have merely survived and achieved a modicum of happiness, seems absolutely heroic! 
Mary G. Pinckney did much more. Born in Maryland in 1810, the daughter of Washington's friend, Colonel Joshua Ninan Pinckney and his wife Mary, she had inherited $40,000 at the time of  her father's death. Her mother remarried Archibald D. Watt, a prosperous New York landowner from Dundee, Scotland. Eager to repeat the success of the Erie Canal, Watt and his brother started digging a waterway at 103rd Street, to connect the Hudson and Harlem Rivers.
Ca. 1840: Before there was ever a 'Striver's Row' there was 'The White House', an elegant neo-Classical mansion, on the estate of Archibald Watt, ar West 140th Street, in the center of today's Adam Clayton Powell, Jr. Boulevard.  A native of Scotland, Watt had acquired the fine house with an extensive farm  from John De Lancey in 1826 for $62,500.   By 1907, despite frequent dispersals, his heirs' holdings still covered the largest intact estate in Harlem. A large irregularly formed triangular plot, the farm encompassed the area bordered by the Harlem River on the east, with a diagonal line from present-day East 142nd Street, to West 132nd Street marking its southern boundary. Its western border ran along St. Nicholas Avenue as far as 145th Street.   There it jogged in toward the east, more-or-less along Bradhurst Avenue, north to the Harlem River.
Originally Watt's acreage had been larger still, including the sights of the Polo Grounds, City College and  St. Nicholas Park.
Ca. 1840: Archibald Watt's stable and the stone cupolaed house of his son Thomas Watt, which stood adjoining present day West 142nd Street.
Older people can be refreshingly honest. My 96-year-old friend Grafton Trew has a way of uttering aloud those inconvenient truths which the rest of us only dare think. "One thing is abundantly clear, " he observed recently, "For certain people, there's just no understanding what we want, we people of color. 'Why would we ever wish to go anywhere we weren't wanted?' That's what some, rolling their eyes while lolling on tropical beaches beside the aquamarine-blue Atlantic below the Cerulean-blue sky, are thinking. Left up to them, we'd go nowhere and do nothing, save chase each other and Tarzan in the jungle."
Ca. 1890: Moved east around 1865 to make way for Seventh Avenue [Adam Clayton Powell, Jr. Boulevard], the iconic, temple-fronted house, with stop-fluted Doric columns and a flush boarded facade, gained an awkward mansard roof and cupola at about the same time.
1908: Among the most handsome century-old houses left in the city when this photograph was made, the Watt-Pinkney mansion surely would have been preserved had it not stood near the center of Manhattan's burgeoning African American settlement in Harlem.
Harlem's Watt Pinkney house was surely one of finest examples of Federal style residential architecture ever built in New York.
1907: Encircled by tenements, the Watt-Pinkeny mansion survived until 1925! During its final decade the venerable structure had served as the legendary Lybia nightclub and restaurant, one of black Harlem's earliest jazz venues.
The graceful front staircase.
Caught overextended and short of cash by the depession in  1837,  Archibald Watt turned to his stepdaughter for help. Advancing her $40,000 inheritance as a loan, Miss Pinkney became one of the nation's foremost heiresses when Watt transferred all his extensive Harlem real estate holdings over to her. She spent the remainder of her 96 years shrewdly administering this property, which included the area where David King would erect the King Model Houses in 1892. 
Continuing, he was no less hard-hitting. "It doesn't seem to matter what religion or race we are either, whether we are 'sand-niggers', or regular 'nwa's', to them, we are inscrutable! And the funny thing is, we just want what other people have, enjoy and take for granted. A little respect, acceptance and equality, thank you, that's all one desires really!
Striver's Row consists of three distinct groups of 160 Harlem row-houses on West 138th and West 139th Street, between Adam Clayton Powell Jr. Boulevard and Frederick Douglass Boulevard. Houses range between 18 and 22 feet wide and are the standard 50 feet deep with a rear extension. Originally called the "King Model Houses" after their  developer David King, they were constructed between 1891 and 1892 for $1,535,000.  Their designers included Stanford White of McKim, Mead and White. He did the northern-most neo-Italian Renaissance style row on 139th Street.  Bruce Price, with Clarence S. Luce, was responsible for the Federal-Renaissance, yellow and buff colored ensemble occupying the south side of 139th Street and the north side of 138th Street.  On the south of 138th Street stands a brick and brownstone neo-Northern Renaissance style group by James Brown Lord.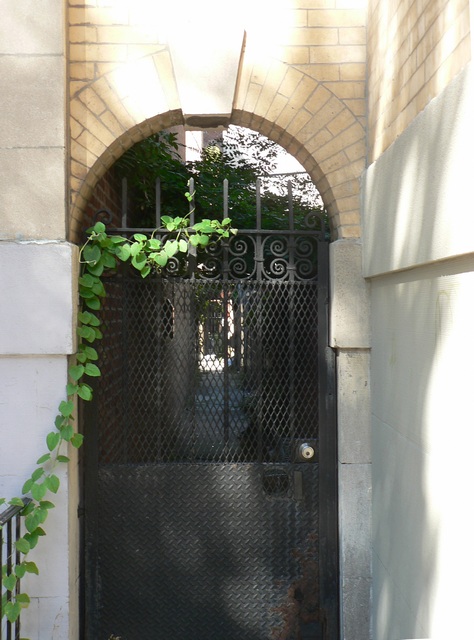 If one doesn't like being told how to pray, or where to go, if you think your faith, or lack thereof, is no one else's business in any way whatever, then for goodness sake, hold your tongue before dictating to someone else!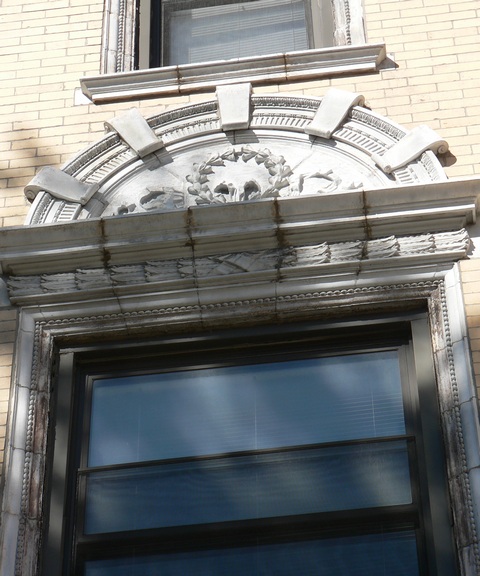 The trouble is, even with the astonishing achievement of our amazing first foreign born Muslim president, liberty and justice for all, are still not quite the watchword of the land," he concluded.
Stanford White devised the innovative disposition of  King's houses with shared rear alleyways and abreviated walled gardens. These alleys allowed discreet stabling, refuse removal and deliveries. Today, the back areas are used almost exclusively for the parking of cars.
David King's speculative development failed, and many still unsold houses were transfered to the ownership by the Equitable Life Assurance Society, which had financed the project. By this time, Harlem was being abandoned by white New Yorkers, but the company refused to sell the King houses to blacks. As a result, they sat empty, seeming all the more desirable because they were 'forbiden'. When they were finally made available to black residents, for $8,000 each, the inventive machinations of the ambitious householders they attracted, which included taking in boarders by even the most prominent residents, gave the houses their current somewhat derisive name.
Hearing Grafton's words of wisdom got me to thinking how easy it is to be misunderstood! Frequently, because I so admire superficial niceties, aesthetics and civilities of an earlier time, related by Grafton and others, younger friends insist, 'Oh, you must wish you were born in the past, right?'

No way! Not just to mention my deepening dependence on central heating and air-conditioning in our rapidly variable epoch, I rely even more on my growing ability to dress how I wish, to live where I like, and to say whatever I want. It's not easy. Even in a place like Harlem, the historic African American Cultural Capital, for black people, in a way, it's become harder than ever.
Boasting a central loggia, Stanford White's 'American Basement' houses, entered at the ground level, have full width drawing rooms and dining rooms as a result. Made from iron-spot Roman brick with brownstone rustication, they are as refined and monumental as White's grander houses for Henry Villard.
1894: Mid-block gateways allowing access to the the allys, also provided  additional light for larger houses on the ends of rows. 
That's because the area's average income is only $36,000, while the depressed average condominium price hovers above $500,000. If one loses the place where one lives here, it probably can't be replicated affordably. Certainly not for what one previously paid.
1894: White's intricate iron gates and arches have sadly been lost. 
 
As for the Shangri-Las of the elite white world, places like Newport, Hobe Sound, Fishers Island, River House, or in other swank Upper East Side Manhattan apartment buildings, which only recently admitted Jews, forget about living there for now. Even beyond the inability of most African Americans to afford living in such rarefied realms, more importantly, we remain unwelcome.
 Cars today mar the prospect of White's open alleys.


What history tells us, happily, is that, slowly, but surely non-economic barriers, like elitism and racism, will give way and break down. Just recall how, in living memory, actress Diana Carroll had to jump towering hurdles in order to live on Central Park South.


Ca. 1935, by Carl Van Vechten.
Madame C. J. Walker's bid to live in Irvington-On-Hudson, near Livingstons, Goulds and Rockefellers, was similarly trying. Neighbors were horrified, first seeing 'the dressed up Negress in a chauffeur-driven automobile' pull up. But her white lawyer had secured the deed for Villa Lewaro's acreage, fair and square!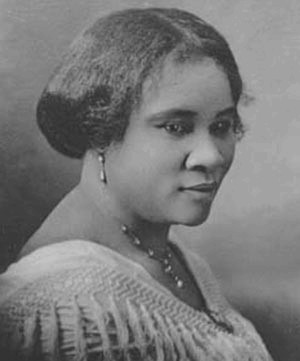 Masterful magnate, Madame C. J. Walker.
Madame C. J. Walker's distinguished West 136th Street beauty salon-residence was designed by Vertner Woodson Tandy. Once A'Lelia Walker moved to a one-bedroom apartment at 80 Edgecombe Avenue, she transformed her mother's grand abode into a deluxe catering hall, the storied Dark Tower, where the best parties were always the ones she gave. 
A'Lelia Walker. About to remarry in 1919, she planned to move to a corner house on Strivers Row. 
 A'Lelia Walker's 136th Street bedroom.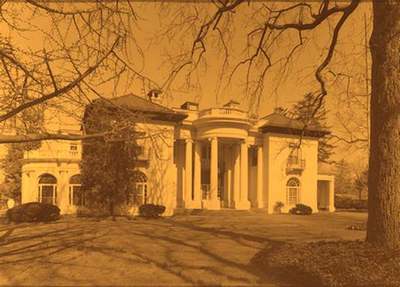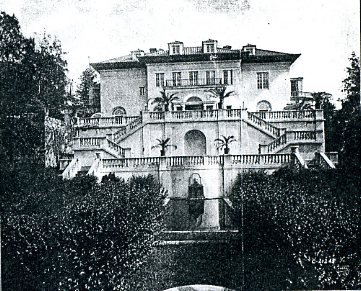 Villa Lewaro, the Irvington, New York country house of Madam C. J. Walker from 1918 to 1919. Walker is believed to be the first African American woman self-made millionaire, through the manufacture and sale of  hair care and beauty products made expressly for blacks. Her ambitious mansion was designed by Striver's Row resident, Vertner Woodson Tandy, New York State's first registered African American architect.  Constructed between  1916 and 1918, it cost  an estimated $250,000, a vast fortune at a time when the average wage for a black New Yorker was only $800 yearly. The name Villa Lewaro was coined by a visitor and friend, Enrico Caruso. It was derived from the first two letters of each word in Lelia Walker Robinson's name. She was Madame Walker's only child and once her mother died in 1919, A'Lelia Walker inherited her famed estate, living here periodically until she, too, died in 1931.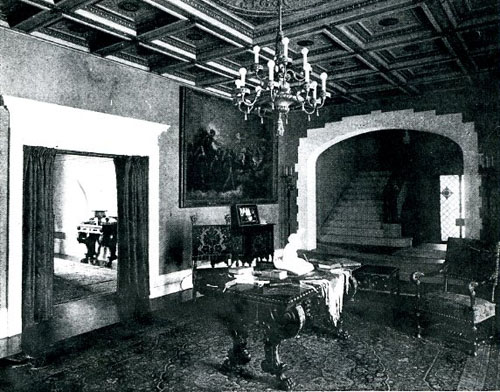 Villa Lewaro's decorator, Frank R. Smith of Righter & Kolb, had previously appointed Walker's Harlem townhouse.
1918: The vaulted Dining Room. 
Up
town such ugly exclusivity once partly accounted for the allure of 'Striver's Row'. These two blocks of model townhouses on 138th and 139th Streets, between Seventh and Eighth Avenues, once beckoned to blacks all the more because they were forbidden fruit. The harmonious rows of houses here were designed by acclaimed architects James Brown Lord, Bruce Price, Clarance Luce and Stanford White. Completed in 1892, their acquisition was restricted, prohibiting black ownership until 1919.
Seen by some as sacrosanct, 'the row', where it was said that, 'people would willingly flaunt any scruple, just in order to live there,' was inhabited by Harlem's crème de la crème. Folks like architect Vertner W. Tandy, Harlem Hospital's head of surgery Dr. Louis T. Wright, and 'colored socialites' like Bernia Austin, resided here in a world apart. Joining forces, this tiny elite fought fiercely to safeguard their bastion of privilege.
Presenting Moses with an unprecedented defeat, they also scored one of the nation's nascent, still largely overlooked, historic preservation victories!
Bitterly denouncing the advantages of  'the row's' residents, saying they would do anything, merely in order to maintain their fashionable addresses, people were not restricting their criticism to drug peddlers, pimps, politicians or numbers bankers. 
Among 'the row's' most notable hostesses, ranked Bertha May Doyle Lee Cotton. She was the wife of Dr. Norman Therkiel Cotton and mother to Gloria Helene and Bertha Marie. A Bostonian, Mrs. Cotton and her sisters, Minerva Lee Buckner and Emma Lee Layton, hailed from a family of abundant social standing, but meager means. It was fortunate then that each sister made a more highly advantageous marriage than the next.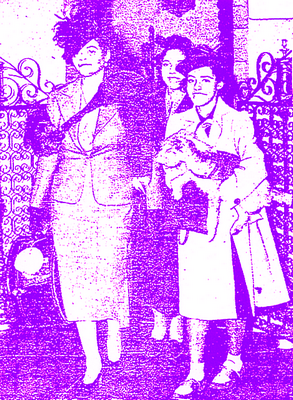 Dr. Cotton, a graduate of Lincoln University, who practiced medicine in New York and New Jersey, where he became city health commissioner of Patterson, was the richest. Or so it seemed at first.
At the peak of his success as a boxer, Harry Willis and his wife lived on 139th Street.
Dr. and Mrs. Binga Dismond of Strivers Row, lived in the Willises' old house.
 Architect Vertner Woodson Tandy.
Dr. Louis T. Wright and his doctor daughters, Dr. Barbara Wright Pierce and her elder sister, Dr. Jane Wright Jones.
Dr. and Mrs. Ubert Conrad Vincent, of 251 West 138th Street.
Accordingly, at the height of 'the Renaissance' the Cottons had acquired 220 West 139th Street. They engaged their neighbor, Vertner Tandy, to totally remodel their new house. Presided over by a non-black man servant, the Cotton household was the scene of generously dispensed hospitality. But their base, on 'the row', was not the sole 'house of Cotton', as tabloid columnists liked to describe the Cottons' abodes.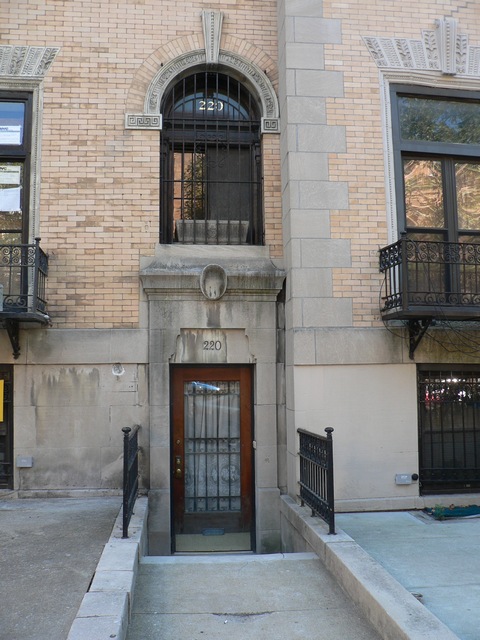 One alteration Tandy gave the Cottons' townhouse was a new ground floor entrace. slightly below grade.  This enabled the 'first floor' drawing room of their dwelling which, as designed by Emily Post's father, Bruce Price, adjoined the narrow entry up a high exterior stoop, to be extended the building's full width, as at Stanford White's houses across the street.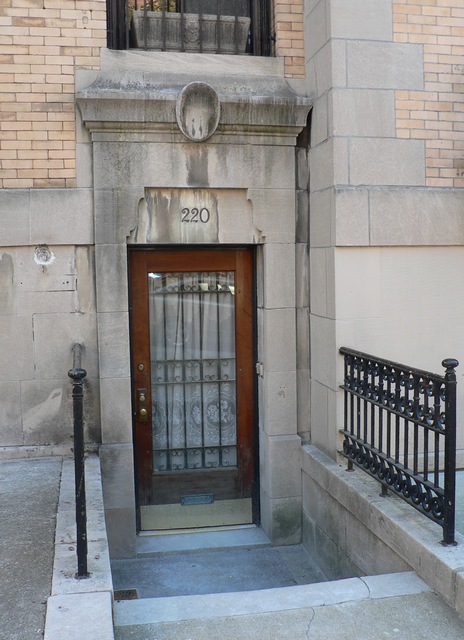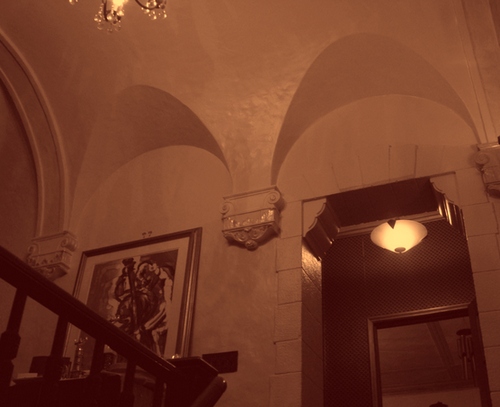 Tandy's parlor -level hall was given a decidedly Italian Renaissance cast with rough tinted stucco walls, projecting, contrasted quoins around the doorways, scrolled ironwork gates and a vaulted ceiling.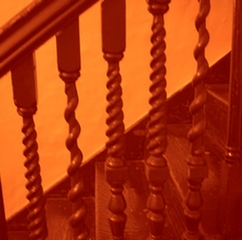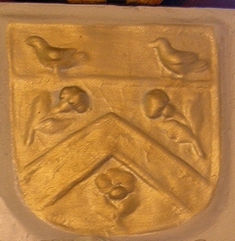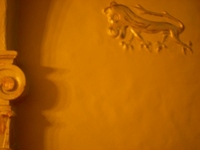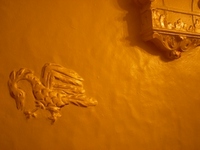 Tandy's sham heraldic reliefs of mythical beasts are more whimsical than symbolic.
Mrs. Cotton brought back four Venetian glass chandeliers from her travels abroad to adorn her home.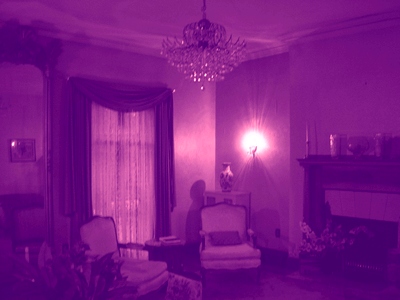 A Venetian chandelier and a manteless fireplace contribute to the Italian decor of Bertha Cotton's spacious beamed bedroom.
In addition to a place at Dr. Cotton's boyhood home at Greensboro, North Carolina, his family kept a house at Patterson, New Jersey, and a seaside cottage at Oak Bluffs, Massachusetts. Abandoning Harlem by the mid 1940's, they could still be found at their other houses well into the 1960's.

 Gloria Helene and Bertha Marie Cotton, the wonderful Cotton sisters!
The Cottons also frequently traveled abroad, first class, on top liners like the SS Normandie. This was because Emma Lee had married successful singer-songwriter Tuner Layton. As an entertainer Layton had been received so warmly by English audiences in the 1920's, that he decided never to return to live in America.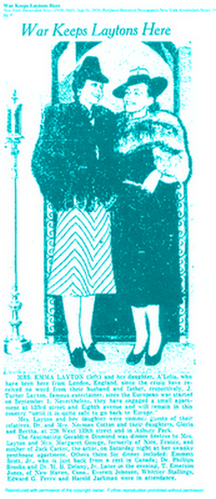 1939: Bertha, Mrs. Norman T. Cotton with her 'adored' sister Emma, Mrs. Turner Layton.

Awash in parties, houses, furs, jewels, smart clothes, and sleek cars, Bertha Cotton said she did her own cooking.  She explained to journalist Thelma Berlack Boozer in 1937, "I came up in the School of Hard Knocks." So however fantastic her untypical life might have been, she seemed credible insisting she, 'put her home, children and husband first', and still always found time for whatever else she might want to do.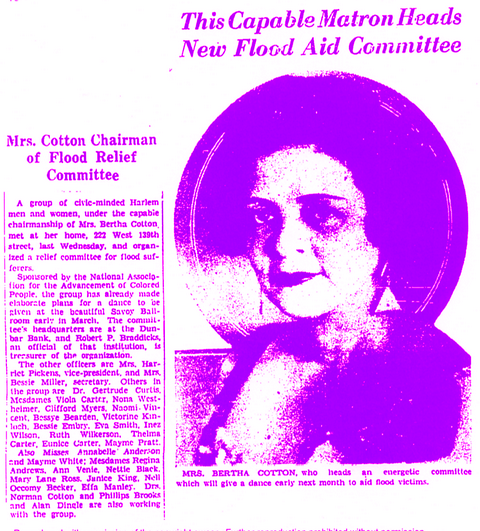 Employed as a dressmaker before her marriage, one thing Bertha Cotton always found imperative was to make a good appearance. She also confessed to Thelma Boozer, that, appreciating the value of money...I love a good bargain.' Learning this, it comes as little surprise that society matron Bertha Cotton succumbed to temptations offered by bandit Milton Boyce.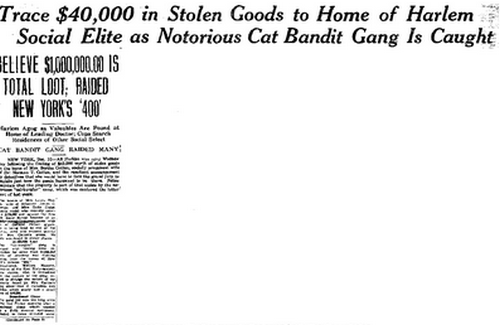 Including a sapphire and diamond bracelet, a jewel-encrusted wrist watch and haute couture gowns, the 'hot merchandise' Bertha Cotton obtained had an estimated value of $40,000. All together, in 1931 the interracial, five-man 'cat bandit' ring made a haul from Upper East side apartments and townhouses valued at one million dollars. To get a handle on the magnitude represented by $40,000 in Great Depression era African American Harlem, it's important to realize that in 1927 the Cottons' stately residence on 'the row' had cost about half that amount. While, on the other hand, records from the time indicate that Dr. Cotton's entire yearly income was only around $65,000.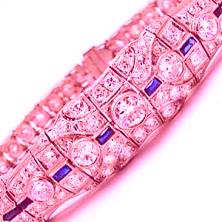 Bertha Cotton was scarcely alone in willingly purchasing highly discounted goods of dubious provenance. The ensuing scandal, including a 'raid' at 220, and Mrs. Cotton being obliged to explain herself before a grand jury, made all the papers. But the Cotton family's social prominence was never diminished as a result.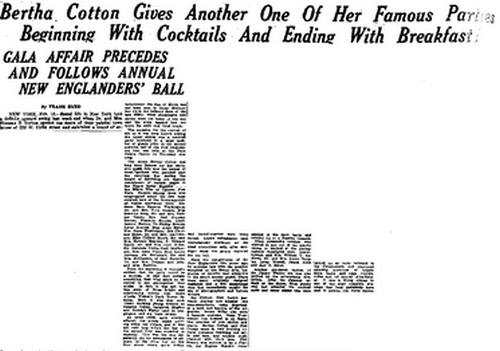 Gloria and Bertie with Madame C. J. Walker's great-great-granddaughter, A'Leia Bundles.
What became of the pampered patricians who once lived in the King Model Houses? Are the debutante daughters of Louis T. Wright, each of whom became doctors like their father, still living? What became of the Cottons' girls; Gloria Helene, born in 1922 and Bertha Marie, born in 1925? In the years that followed their mother's moment of disgrace, the Cotton sisters' old neighborhood, proud and fabled "Striver's Row" would experience a humiliating decline.
I'm happy to say that 'Bertie' and Gloria Cotton, rather than declining or faltering, have flourished instead!  Each married and had children, but neither, as one might naturally suspect, became a star debutante. What difficulty I had tracking them down. The on-line archive of the Baltimore Afro-American Newspaper was my rosetta stone. Searching dozens of issues, reading all about  Dr. Cotton's brother, Macon T. Cotton, and his spectacular high society divorce in the 1930's, I learned of the lucrative Cotton Funeral Home in Orange, New Jersey. Still prosperous and expanded over three cities, this enterprise led me to Macon's son, another Macon.  It was he who led me to Bertie. 
There are some people one seems destined to encounter. Can there be a sweeter, more honest and down-to-earth person than Bertie Cotton?  Bertha Cotton, her 'mother', had captivated me because she dared to live so large, against the odds. Where Bertha was stylish and imperious, Bertie is fun-loving and astute. Bertie held the key that would enable me to better know the woman who served as the model for the hero of Countee Cullen's novel of social satire from 1932,  One Way to Heaven. So arranging to travel with my historian friends A'Leila Bundles, hard at work on her biography of her great grandmother A'Leia Walker, and Thomas Wirth, the Richard Bruce Nugent scholar, off I went, in pursuit of a friend I not yet met and her unlikely and remarkable mother.
We gathered on a beautiful summer day, Gloria had come over to meet us at Bertie's small spic-and-span house from her retirement community nearby.  I was already privey to the fact that they'd been adopted as toddlers.  Their 'real mother', a cousin of their adoptive mother, whom both called Bertha, had had 13 children. Either unable, or unwilling to have children, Bertha had discovered they would be placed in an orphanage and had taken them on approval. Angelic looking with large eyes and waving hair, the tiny girls made a favorable enough impression  in public that Bertha soon decided to keep them. She had already changed their names on a chance that they might do. Trainning them to be expert cooks, dishwashers and cleaners came next. 
Bertha loved to be the focus of attention as a hostess. She entertained frequently, on a prodigious scale. "We were her slaves!", Gloria told us.  "She was a bitch." Bertie said more succinctly, in a quiet voice.
Doctor Cotton, their 'dad', was a wonderful, caring and thoughtful man. To his girls, to paitents unable to pay, to his brothers and sisters, he was kindness personified.  With a practice in New Jersey as well as Harlem, he worked incessantly, spending his weeks in  Patterson. "He came home on weekends, to bring Bertha money and to whip us for being bad. This was mostly disobedience that Bertha made up, holding the threat over us all week, to keep us in tow."
The most shocking thing we learned was that Bertha had stolen Dr. Cotton from her sister Emma. Diligent, attractive, light enough to pass for white, her sister's young medical student boyfriend was a great catch, "So she took him for herself. They had seperate bedrooms and she controlled him with the lock on her door."
Bertha Cotton's punishment might well to have been devised by Dante. When Tunner Layton gave up medical studies to seek a musical career, Bertha dropped him. Moving to London, he'd become the toast of the town, he'd hit the 'big time'. Along the way he'd also married Emma.  Dresed in Paris originals, entertained by aristocrats and royalty, it was Emma who stood by his side. "Bertha could have had him, but gave him up. He wrote"After You're Gone". He became a big star, and Emma had him instead of her. That just burned her up!" Bertie said, laughing.
Why had the Cottons left Striver's Row?  More than the arrival here of 'room to let' signs or the populist evangelist Father Divine, in the 1930's, it was Norman Cotton's diminishing capacity to stand up to the strain of constant parties and unending work.  "He had to work, that was why Bertha married him. But since he did'nt really care all that much for social life, he finally determined to party and work much less."  
After the Cottons decamped to Patterson, the advent of the 1950's rooming house and SRO's had come to Striver's Row. Then things gradually started to improve. Just prior to the 1987 crash, a house here sold for a record $500,000.  Remember,  David King's and theEquitable Life Assurance Society's origional investment for all 160 houses had been just $1,535,000.  Today, even with the recession, one couldn't even easily find a condo apartment 'on the row' at such a modest price as $500,000. A few years ago, and again now, houses here have been going for around $2 million. 'That's way too much for most people of color; our days here are numbered,' asserts Grafton Trew.
Very likely he's right. But equally true, no matter who ends up living on these gracious blocks, is the most significant thing conveyed to me by the Cotton sisters. Namely, however regal the bearing of newcomers, no matter how elegant their attire is, or glittering their jewels and parties, one ought not to be taken in by such appearances.  Comported like little princess, privately educated and beautifully dressed, Gloria and Bertie polished silver and washed dishes late into the night. They learned the hard way, through experience, how, on Striver's Row very little is ever exactly all it seems.  
 Dr. Binga Dismond and his third wife boating  at Sag Harbor.