Sometimes we're lucky and get exactly what we want. Yet there's a limit to good fortune, Norval White or not. No, I'm not expressing regret over a duplex at the top of River House; I'm only lamenting a sad irony. For a century, tauted as the world's "African American Cultural Capital!", Harlem, ever more rapidly, is slipping through the fingers of black New Yorkers.
For many, it's been much like a bad, but long tolerated, marriage to someone additcted to crack. Forever, it seems, one has endured every privation and heaps of abuse. But for the sake of the kids, for the sake of love, remembering what once was, good times proceeding protracted deterioration, one has remained true.
Finnaly, slowly, but surely, they start to get it together. Only it's as fidelity means nothing as one's guilty spouse, who you always proped up and kept afloat, who ask you to leave and kicks you out. With little warning, a relationship one had imagined capable of limping along forever, instead ends abruptly. Yor ex cleverly manages to charm the court and keeps every asset, to produce for some new, an untested, less faithful partner, luxury beyond all you'd ever dreamed of. Your kids show you pictures on face book. You shake your head in disbelief, almost unable to recognize your old place, filled with potential but so shabby, done up with a marble mosaic shower stall and granite counter tops.
This is the breakup awaiting many. For the longest time, it bothered me terribly, my apprehension concerning the userpers. The palpable unease I feel seeing more and more whites venturing homeward in the hood, pushing space-age perambulators and heavily laden with Fairway bags, troubled me greatly. After all, am I not, Mr. Diversity, extolling the many charms Harlem boast to offer to any discerning lover? Are not half of my best friends white? Yes. So it took me a while to get over my guilt at wanting to preserve Harlem for myself and others who have suffered unspeakable trials through the bad days and now hope to enjoy the good at last.
Ridiculously cheap, my upper-Manhattan aerie is still unaffordable for this busy but poorly compensated writer-historian-activist. Unfortunately, unemployed for a year after I moved in, I fell deeply in debt. Begging and browing, last year I paid off half. Five grand reamain.

"You might want to try a roommate?" suggested my building's diligent attorney at Housing Court. She wore the most amazingly clear and brilliant emerald-cut diamond ring, weighing roughly ten carats, I'd estimate. Genuinely sympathetic, notwithstanding unwavering professionalism, she readily trumped protest that I'd only one bedroom with, "I understand about having just one bedroom, but better a roommate than becoming homeless?"
Who among us is in a position to argue with such indisputable logic? And how poignant too, that lonely and longing for the company of someone so nice to come home to: the elusive boyfriend, Mr. Right, shacking-up is now offered as the answer to my problems. Only it's impossible? Those few dear friends, friends fond enough to successfully happily coexist within a limited space, mostly felled by Aids, are already long dead.
In any case if my building's lawyer was perfectly fair, though without great empathy.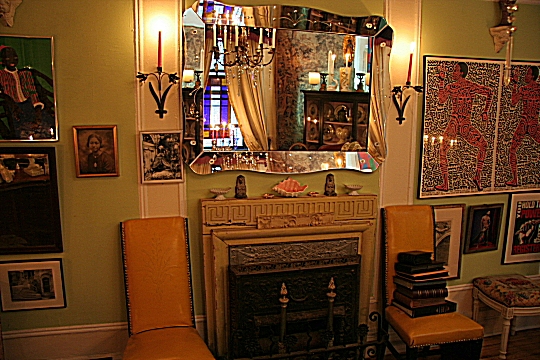 the lady judge was, by contrast, a holdover from the epoch of the divine right of kings and landlords. Unlike my case, for what insignificantly trivial sums are people thrown into the streets with nowhere to go. What is the good of a city with more billionaires and multi-million dollar bonuses than any other, if every day people can lose everything for no substantive reason and often due to circumstances utterly beyond their control?
I love my tiny lower Convent Avenue hideaway. I've been quite happy here for the past two years. Built in 1909, the St. Agnes Apartments was designed by the prolific, mostly commercial architect, Henri Fouchaux. The Madams of the Sacred Heart, whose convent school between 129th and 135th Streets, gave the avenue its name, selling the lots for a full block of apartments named for different saints, stipulated that they could not be owned or occupied by "Negros." Uniquely the St. Agnes Apartments boasts a mammoth double height, partly barrel-vaulted entrance and lobby. Embellished with refined gout-Grec ornament, it was an evocatively eerie setting for the hit film Single White Female.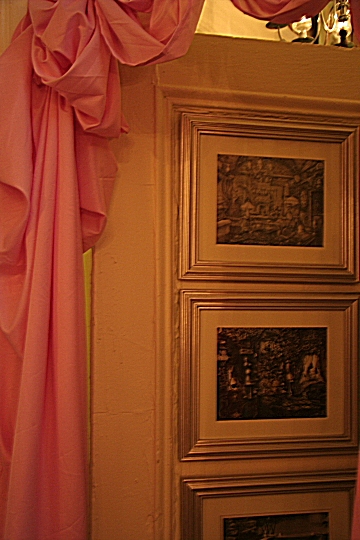 If it lacks accommodation for guests, a terrace, a working fireplace or marble walls, inspired by drawings I've made of fanciful imaginary interiors it nevertheless possesses all there is that I truly require.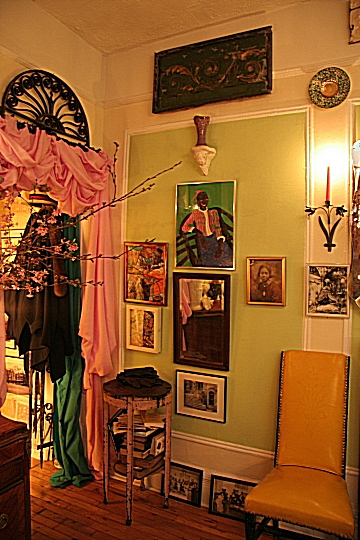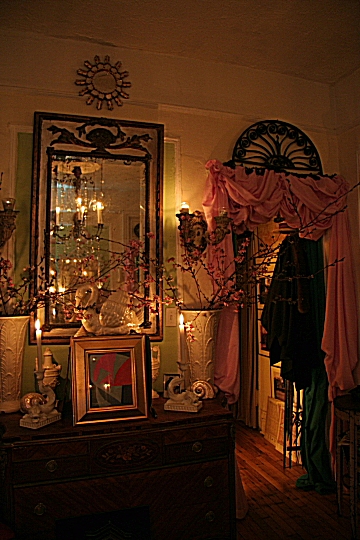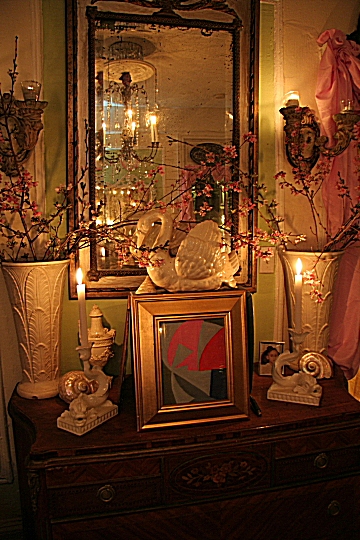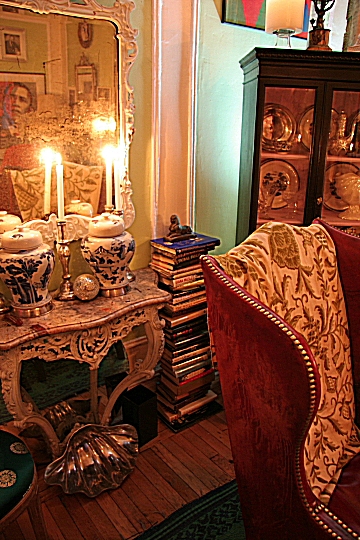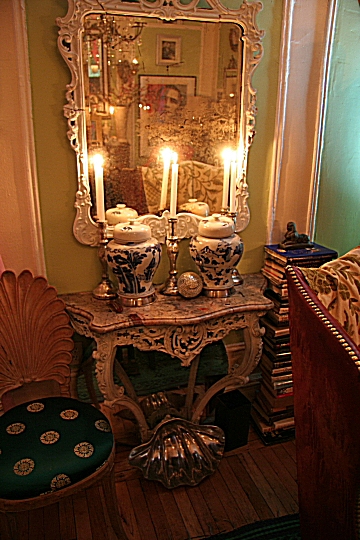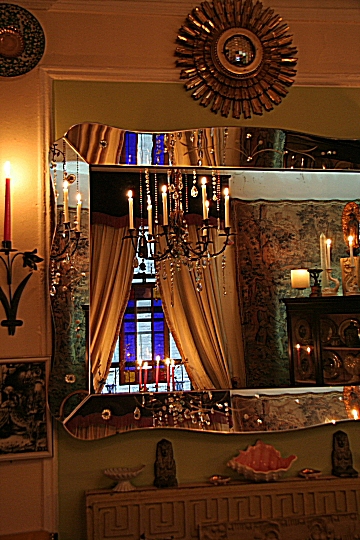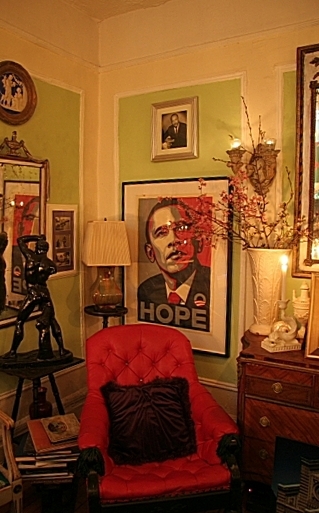 I'm surrounded by delightful images by special artists like Grace Williams, Arnold Rice, Michael Mc Collom, Marvin Smith and Ruben Roncallo. Architectural fragments, relics of lost landmarks are another notable element of the decoration. Some chairs were discovered in junk shops, while a steel desk and two tables were retrieved from the from the street.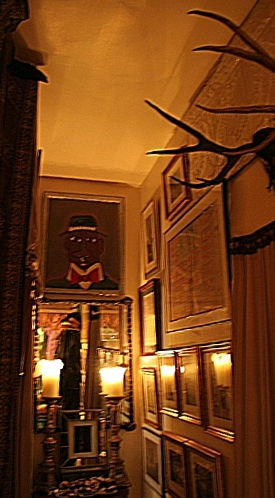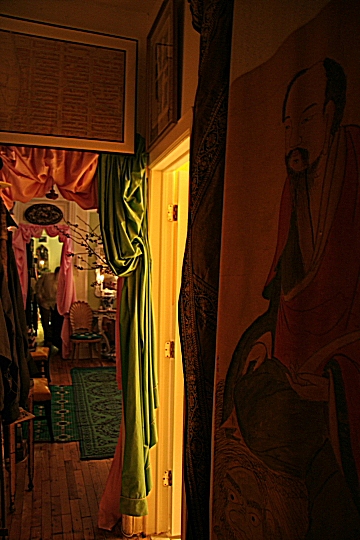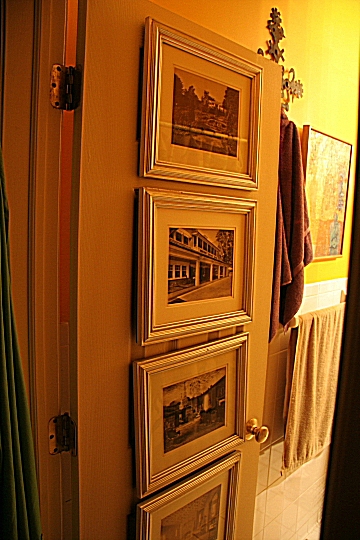 Every wall, and even the doors, display views of old houses in Harlem, 
New York, Newport and Akron, Ohio, where I grew up. Colorful curtains made from sheets, quaint candlesticks in the form of fish, porcelain, silver, old mirrors and old furniture combine to create a stimulating atmosphere in a perpetually dark apartment that I hope is as welcoming to others as it is full of sparkle.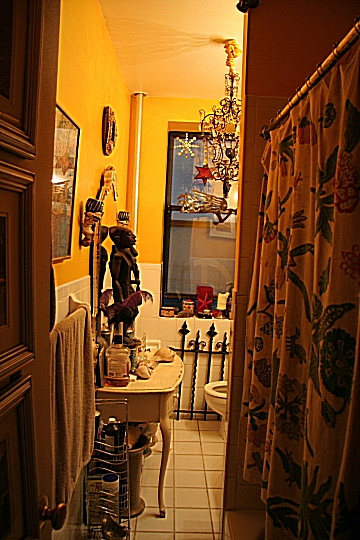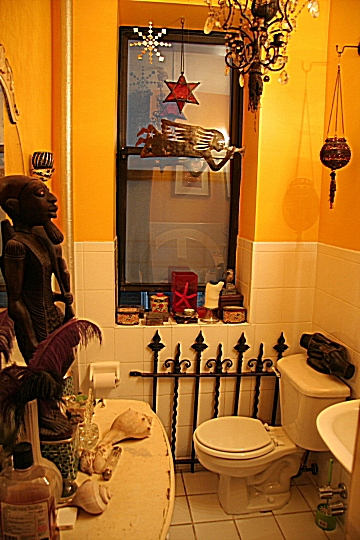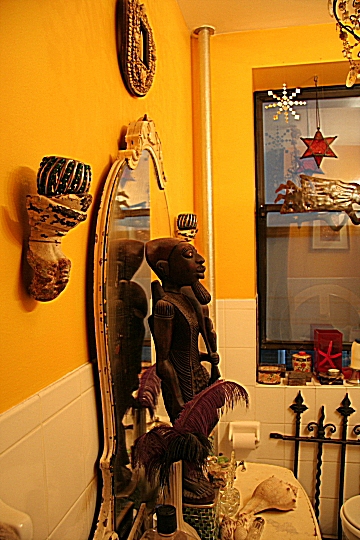 The bath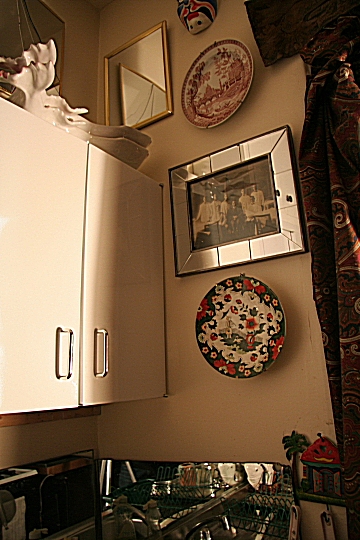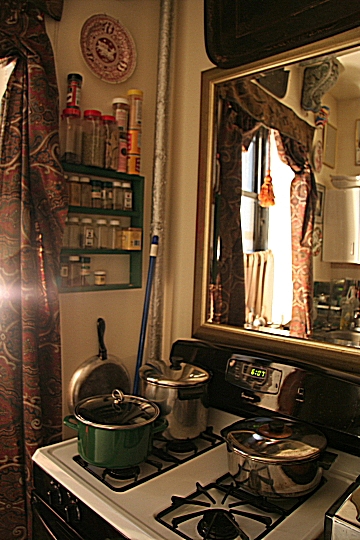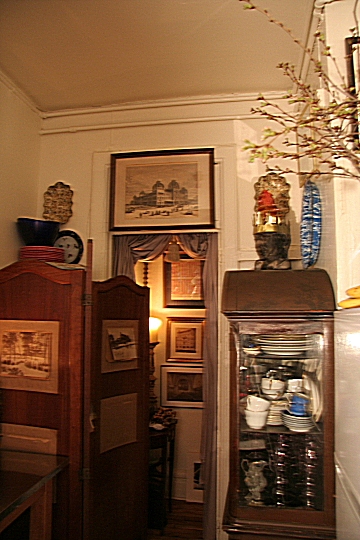 The kitchen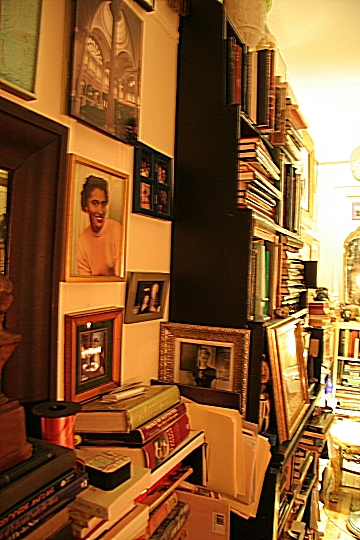 My room
Above all else what most contributes to my well-being here are photographs of family and my dearest, oldest friends. Old or new, books, housed mostly in the solitary bedroom with my indispensable computer, are perhaps the best and most faithful 'friends' to be had. Moreover, like everything else in my treasured home they form a likeness of who I really am better than any other representation ever could.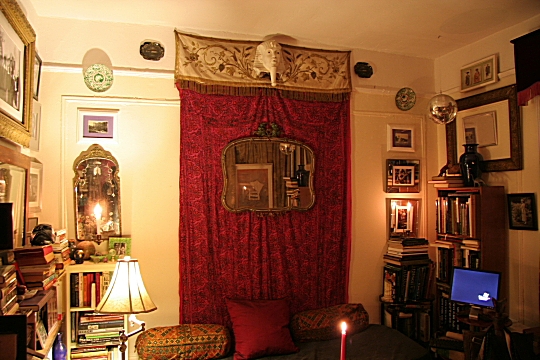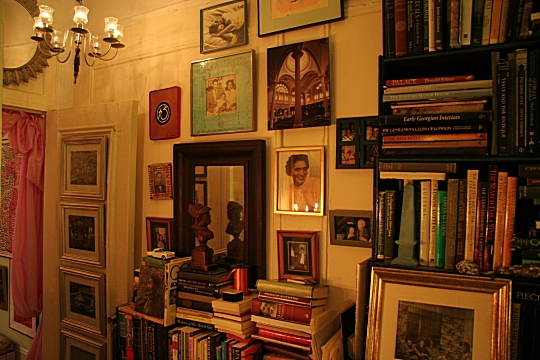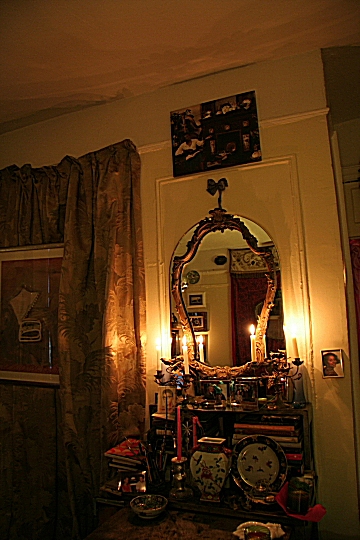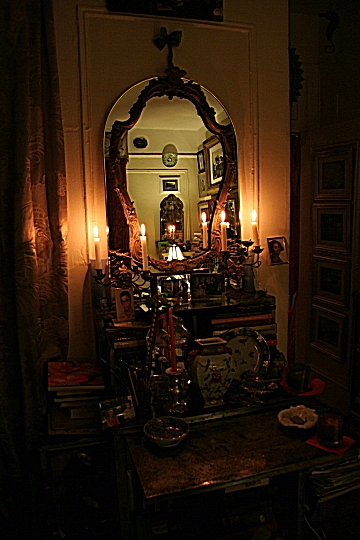 Certainly, there's nothing like soft candle light to make almost anything look more attractive.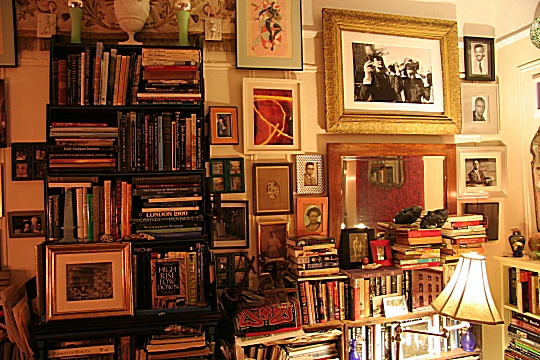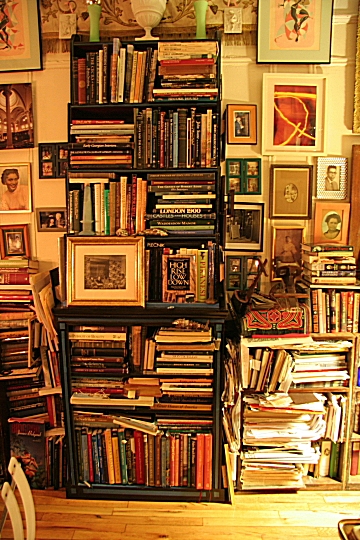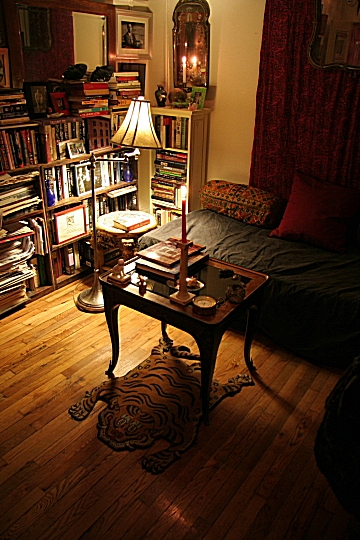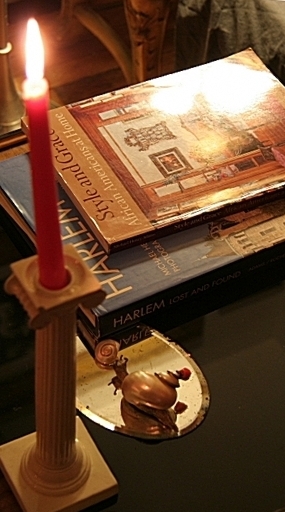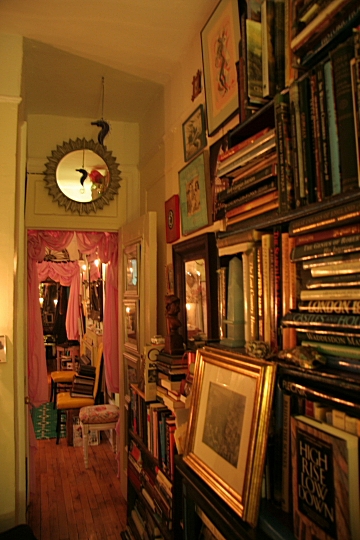 Follow Michael Henry Adams on Twitter: www.twitter.com/harlemhellion