With a nod to Santayana, many feel that history's greatest lesson is the ability it can afford one to travel back in time, to discover one's self, in the past. Regrettably this is not an experience open to all equally.

Former New York Governor David Paterson perhaps best expressed this aspect of alienation among those who are marginalized. Speaking in favor of protecting Harlem's threatened historic buildings, he once noted, "If a Polaroid picture was made of those assembled, what would everyone do as soon as they were handed a copy of the photograph? We would all look to find ourselves," he said.


Patterson continued by observing , "For those who have been undervalued traditionally, for African Americans and others, the problem has been, that, however hard we look, we can't find our image embodied in buildings, or books, or anything associated with 'our history'. We have been excluded from the picture."


This is how it's been for LGBT people, as well. We haven't easily been able to locate ourselves in records documenting great deeds and high accomplishments, either. All too aware of an important part we've played in history, frequently the evidence of our contributions is difficult to discern and even more tricky to interpret.


As a young viewer, for instance, I hardly appreciated that on one level, "Hush, Hush Sweet Charlotte", besides being a wonderfully entertaining movie, was an early plea for preservation. Assuredly, in a work so often dismissed as a lurid soap opera, I failed to recognize one of the greatest movie scenes emblematic of liberation, including gay liberation, of all time.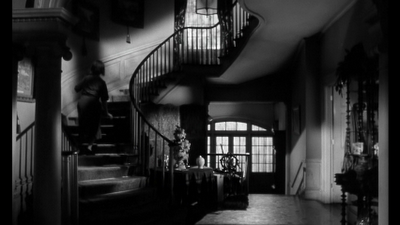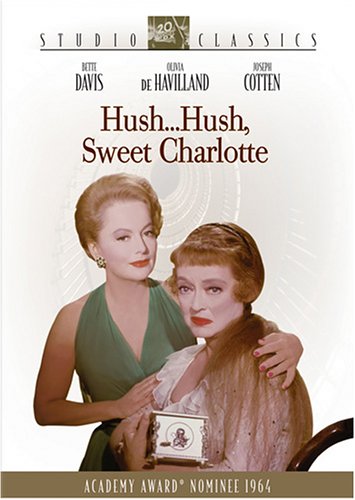 No more readily, on my initial reading, had I seenBrideshead Revisited, for all that it is. This includes a subtle and sensuous seduction, intent on Roman Catholic evangelism. Surprisingly, Hush, Hush Sweet Charlotte, turns out to be the same sort of multifaceted jewel. It is an element of the canon of artistic efforts which should be part of a required curriculum for all those who profess to be either L, G, B, or T.

So ought three biographies, which are among the finest I have ever read: Secret Historian: The Life and Times of Samuel Steward, Professor, Tattoo Artist, and Sexual Renegade by Justin Spring (Farrar, Straus and Giroux, $30.00), The Secret Lives of Somerset Maugham, by Selina Hastings (Random House $35.00), and Mad World: Evelyn Waugh and the Secrets of Brideshead,by Paula Byrne (Harper Collins, $25.99) .

Like Hush, Hush Sweet Charlotte, these thoughtful books are far more than merely pleasurable. They all share, as well a good deal beyond superb writing or the promised revelation of hitherto hidden scandals. They restore to people little known, long forgotten or only partially appreciated, the full glory of their greatness in three dimensions.

They are so exceptional that even the rare error only makes one lament the passing, in our time, of more capable editors. A proper grey top hat, which is always made from felt, described as a "gray silk hat", or a baronet's wife identified as "Lady Beryl," as opposed to Lady Rose, even Alice Roosevelt Longworth's, designation as Eleanor Roosevelt's "niece", as opposed to her cousin, can hardly mar volumes which establish such a distinguished continuum of LGBT themed scholarship.

Secret Historianis a painstaking reconstruction of one of the more extraordinary hidden lives of the twentieth century. It's been drawn from the encoded, never-before-seen diaries, journals, and records of a novelist, poet, and university professor-turned tattoo artist and pornographer. Promising Samuel M. Steward, an intimate friend of Gertrude Stein, and Alice B. Toklas, a lover of Thornton Wilder, maintained a subversive sex life from childhood on. Stewart exhaustively documented these experiences with brilliantly vivid, sometimes quite funny style which, as he aged, grew more painfully poignant.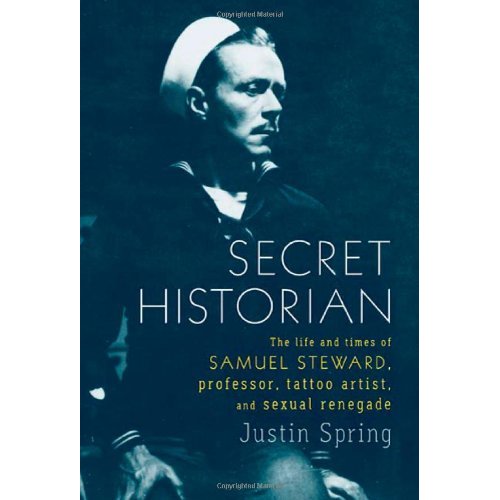 Overjoyed to be befriended and taken seriously by pioneering sex researcher Alfred Kinsey, until today Steward's many identities have been known to only a few. In addition to meticulously recording every particular of his sex life, Steward dared to write about gay subjects in academic work, poetry and other literary endeavors. These, along with taking the trouble to sleep with wayward Lord Alfred Douglas, were all rudiments of the difficult task he set for himself, to enhance the sequence of gay attainment.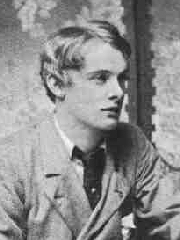 In order to establish an historic link, Steward slept with the aged Lord Alfred Douglas who had so disastrously bewitched Oscar Wilde.
The more resistant society was to his exertions, the less oblique and more immediate Stewart was in relating that aspect of his life which he felt to be most important. Only after his death in 1993, did an extraordinary cache of Steward's long lost papers surface. They are the basis of Mr. Spring's unusually compassionate and penetrating life.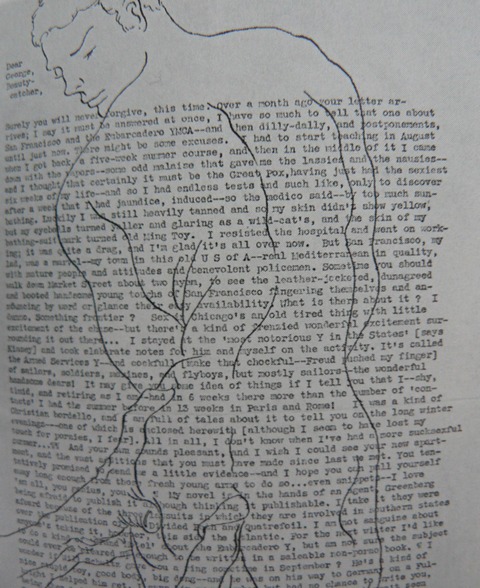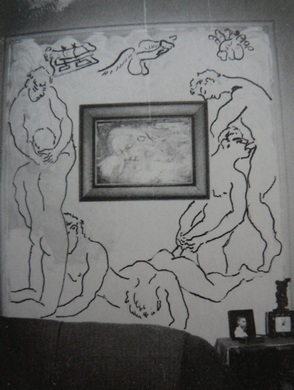 Steward embellished letters to pals like George Platt Lynes, and his modest apartment, with his own accomplished Cocteau-inspired drawings
One mightn't think that Samuel Steward, the Earl of Beauchamp, or W. Somerset Maugham, would have had anything at all in common, not apart from their 'inversion'. Ironically, to some degree, this indeed is what most closely links them together. But they were not bound solely in terms of mere sexual taste. Rather, as different as these men were, the books they read, the poetry they wrote and even the people they knew in common, made them a part of an international brotherhood, as richly endowed with secretive rituals and terms of expression, as widespread and influential as the freemasons.

Oddly enough, in a era when few people shared non-clandestine interracial relationships, this fraternity also included black people. Today some call gay, 'the new black'. To some degree that's due to how many African Americans once sought acceptance through a calculated evisceration of the self, too, doing all that they could to emulate the mores and manners of privileged whites. Such a stratagem, they felt, would earn them acceptance.

Similarly, many gay men and women who knew better, including the Earl of Beauchamp and Somerset Maugham, once routinely entered into conventional alliances with spouses of the opposite sex. Some of these arrangements even included children in obligatory picture-perfect houses. Erecting façades of plausible decorum and seeming conformity, many made a bid to arrange for a secret space in which to be themselves. Even Stewart, the renegade, was to consider this option, to seek greater freedom by leading a double life.

My dear friend Sophie Johnson Charles, who died in 2011 at 93, was one who made such a bargain, only with a fascinating twist. Black and lesbian, a 'double negative', she was a charter member of New York's African American Couples Club, founded in the 1940's.
Composed of committed gay and lesbian partners, attending club outings and dances at members' apartments, offered every semblance of respectability. Seeking greater security still, Sophie and her lover Miriam, engaged in an even more dramatic ruse. By legally marrying a club member, a man with a young boyfriend, and then adopting this young man, Sophie's odd ménage offered unassailable cover.
1947 
Before Sophie met Miriam, "the love of her life", a painter, presented her with this wonderful self-portrait, painted in1948.
An acquaintance of mine, Bill Blizzard, was still another member of this club. Bill's lover was John Leaphart. Not long after Samuel Steward introduced Leaphart to famed photographer George Platt Lynes in 1952, Leaphart introduced Bill Blizzard to both. Initially concerned if these African Americans were hustlers who would expect money, Lynes, reassured by Stewart, was delighted to discover that the charming beauties were as amiable as they were hot. After completing just 40 pages, while communicating my admiration to Justin Spring for his innovatory success, and discussing Leaphart and Blizard via E-mails, Price speculated that sex, among gay men, might historically have been the ultimate equalizer.
"The point Price has," an older friend who knew Steward, Lynes, Leaphart and Blizzard observed, "is that sex across the color line, in addition to being fun because it was exotic, was defiant and viewed as progressive as well. But if it was a step toward equality, in which, whatever his status or income, a white man could never be as cool and knowing as a black man, could never have as huge and ferocious a dick, he still had that all-important social superiority. I attended Yale, but white men, like Lynes or Steward, still always gave one 'car fare' or put a couple dollars on the bureau for the 'laundry'."
1952: John Leaphart and John Leaphart with Buddy McCartny.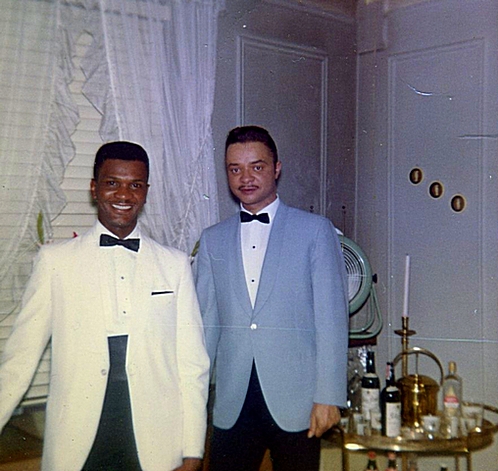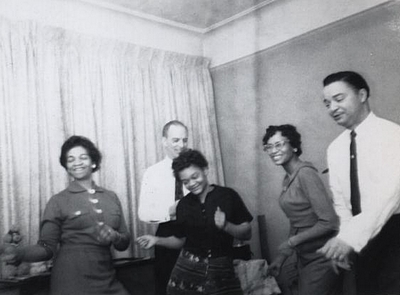 Other Couple's Club members included Royden Bigelow and his friends, Royden is wearing the smart pale blue dinner jacket
At a party Quentin Crisp once explained the gay penchant for working-class men as having to do with a human need to experience difference. While I have never discriminated between a beautiful white party waiter or a beautiful black student, the popularity of uniforms, tattoos and 'rough trade', has always struck me as strange.

Certainly the desire the three men under discussion felt for 'underlings' must have had something to do with a wish to retain masterful control, even as one surrendered to passion or domination. Beyond doubt each man disdained the effeminacy with which gays were stereotyped. The misogynist impulse that inspired the Panthers to denounce homosexuality as an imposition of white degeneracy on blacks, was possibly alive in each. By the 1960's, having fond hopes for many enjoyable times when he moved near black Oakland, Stewart was to be bitterly disappointed.


Replete with formal gardens, Spanish moss-draped-trees and an epic ax murder, Hush, Hush Sweet Charlotte,a late film vehicle for Bette Davis and Olivia De Havilland, is a magnolia-scented melodrama. Action is set within the environs of a handsome, colonnaded plantation house, scheduled for demolition. Corrupt county officials are hell-bent on building a new super highway, one that might easily have gone elsewhere. An aggrieved and envious poor relation, professes to want to help save the ancestral homestead. But actually, the Olivia De Havilland character can't wait to manipulate the situation and have her revenge, by stealing her petted and pampered cousin's 'undeserved' fortune!
Beyond pain and pathos, treachery and backbiting in lovely or memorable surroundings, this film and these three books exemplify an ongoing struggle for tolerance. High status and exceptional gifts, far from protecting their subjects, instead render each more vulnerable for attack. Targeted as outcast, each is scapegoated by people considered upstanding and good, which is to say, those most inclined to be most intolerant.

Highly honored, vastly rich, the father of seven children, and the husband of Lady Lettice Grosvenor, sister of England's richest subject, William Lygon, the 7th Earl of Beauchamp, made for an unlikely outlaw.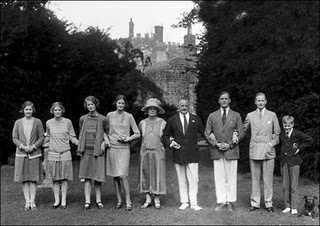 Like so many aristocratic English men, he had first discovered his sexual variance at school. So did his second son, Hugh. So had a great friend of Hugh Lygon's, with whom he would have an affair while at Oxford, Evelyn Waugh. The noted writer would eventually abandon homosexuality, marrying twice, but the Earl and his son, whose noble status and cultivation Waugh idolized, never changed.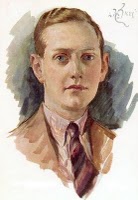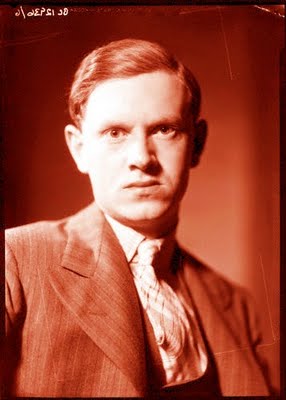 Famously, inBrideshead Revisited,Waugh utilized his closeness with the Lygons to create an elegy to England, as it was imagined to be before the Second World War. He depicts a dynasty set apart, on account of their Catholicism, one that's shunned, because the patriarch is conducting a shameful affair with some foreign adventuress.
Diverting as it is, Waugh's saga was written at a time when it was impossible to more closely reflect the truth. This didn't prevent the discriminating from reading between the lines, but that 'awful truth' had to wait until now, to be completely revealed. Ms. Byrne, the consummate researcher, offering much material that's new, but with all the flair of a popular star-novelist, has done an incredible job. 
 

 

 

 

  

 

As only a few abbreviated excerpts from his wife's divorce petition indicate Beauchamp's disgraceful downfall was colossal: 'THAT the Respondent is a man of perverted sexual practices, has committed acts of gross indecency with male servants and other male persons and has been guilty of sodomy. THAT throughout the married life ...the Respondent habitually committed acts of gross indecency with certain of his male servants, masturbating them with his mouth and hands and compelling them to masturbate him...THAT from the month of May 1909 to the month of April 1912 in the Chauffeurs rooms at 13 Belgrave Mews, West, the Respondent frequently committed sodomy with the said Samuel John Scown...1924...Respondent committed sodomy with a man named Cook... 1927...Respondent committed sodomy with a man whose name is unknown to Your Petitioner...'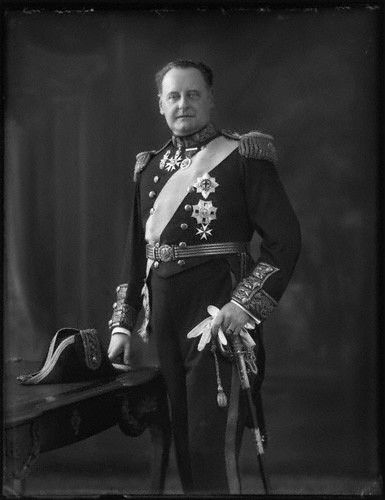 With the collapse of a spectacular façade of deceit, following a brilliant career, Lord Beauchamp's life changed abruptly. At the behest of his King, and on the insistence of his embittered, dissipated brother-in-law, the Duke of Westminster, he was forced to flee the country he'd only recently help to rule. His alternative was to face arrest and certain imprisonment, for being gay.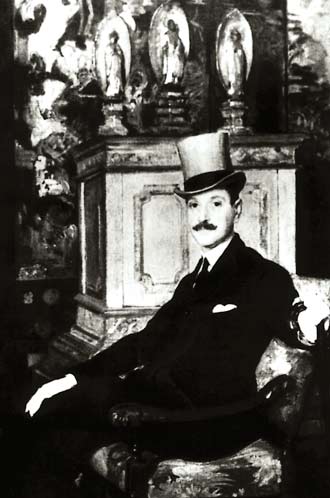 W. Somerset Maugham as The Jester by Sir Gerald Kelly 1911. Kelly, who painted some 30 likenesses o of his friend , was loathed by his wife, who banished this superlative characterization which Maugham presented to the Tate
The focus of a half dozen earlier books, an acclaimed author and playwright with numerous works adapted into Hollywood movies, W. Somerset Maugham is the only person among this newly chronicled group who we think we already know quite well. Married to a fashionable decorator, and in spite of their little girl, Maugham was able to attend stag dinners where one could meet attractive, ambitious young men. Such events were hosted by other married gay toffs of Maugham's circle. One friend of this sort was Robert Tritton, American architect Ogden Codman's former secretary. Following his former employer's example, Tritton married a wealthy widow, became a noted antique collector, and never worked again. He even engaged his old boss to design his elegant country house.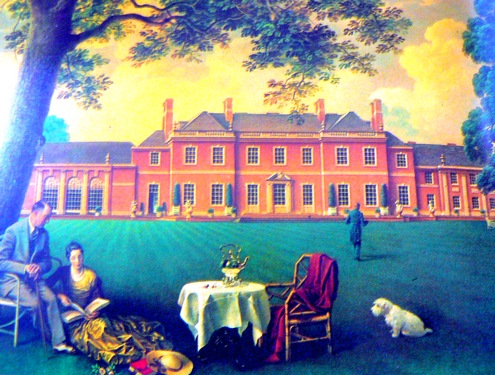 Mr. and Mrs. Robert Tritton at tea Godsmersham Park, Kent, by Rex Whistler, 1935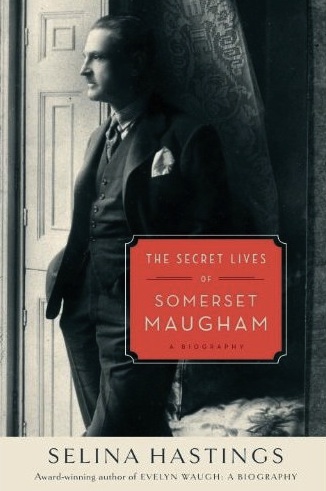 Waugh's second lover was met on an evening spent at Triton's table. Initially, Alan Searle had been merely a casual 'trick'. Compared by Maugham to a 'youth painted by Bronzino', Searle had already been kept by other older, affluent men. And this kind of indiscriminate fling was fine, so far as Mrs. Maugham was concerned. What utterly incensed Syrie Maugham was someone like Gerald Haxton, the dynamic, some said demonic, American, with whom her soon-divorced husband lived openly in a relationship not so different from her own, as his wife. Moreover, while Maugham adored and indulged Haxton, he was only fond of, then tolerant toward, and finally maddened by, the insensitive Syrie.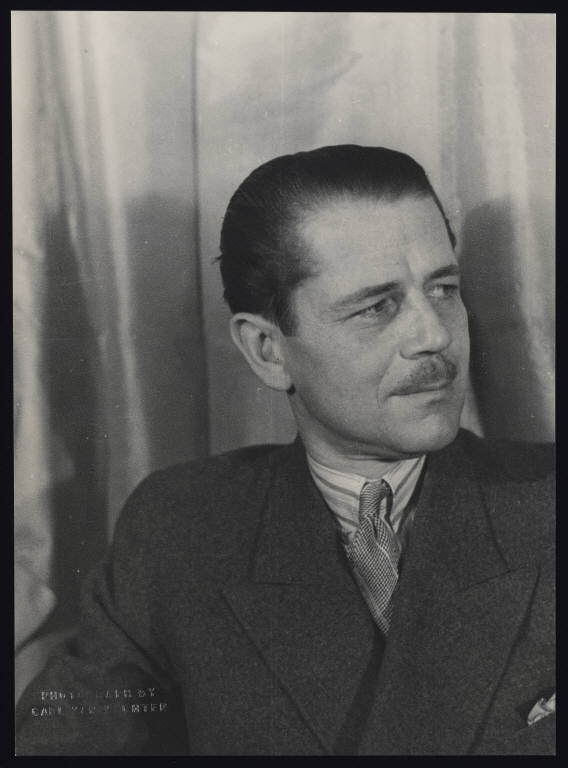 Cherishing a desire for fame and fortune, longing to be left unmolested in a way then impossible for exposed gays, Maugham's unhappy marriage is explained, in part, by his wish to be accepted. Unfortunately, it is also explained by the torment and rejection he suffered from a male lover, on whom he would base the character of Mildred in Of Human Bondage. Of his disastrous liaisons with various men and women, he wrote: "I have most loved people who cared little or nothing for me and when people have loved me, I have been embarrassed... In order not to hurt their feelings, I have often acted a passion I did not feel."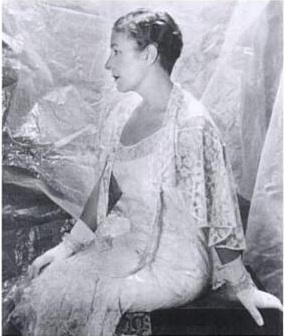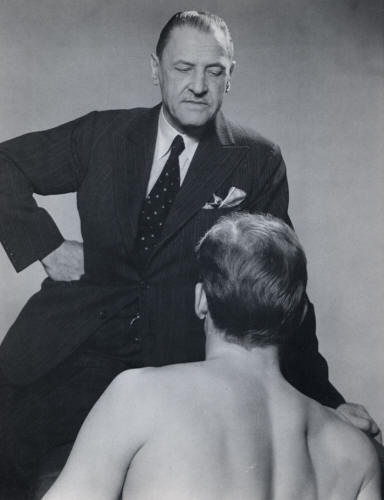 Anyone who has viewed it, easily recalls the scene of Olivia De Havilland's, and her doctor-lover, Joseph Cotton's champagne-swilling. We suspect that their celebration is premature and we are right. For a fortnight this diabolical duo has been employing psychotropic drugs and every conjurer's trick in the book to make Davis relive the horror of her married fiancé's murder on the night of her debutante dance. It is a murder, which it turns out, she didn't commit, and they both know it.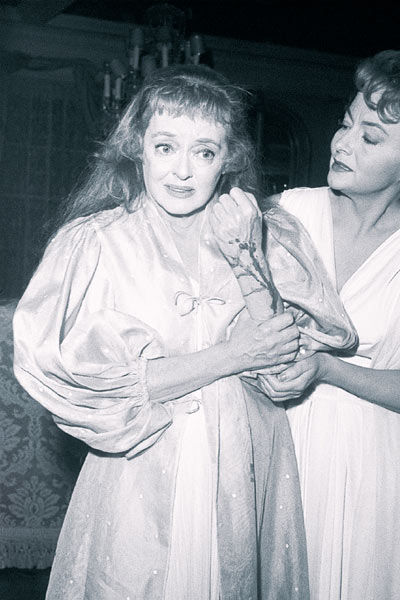 Sadistically, they reinforce the guilt of her 'original crime', suggesting she has committed it anew. Moreover, at the end of their torments, the corpse, laboriously buried at midnight, will not rest, and it reappears by dawn.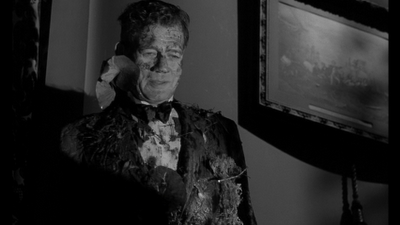 Had she not been so inured by years of self-medication to salve her guilt, so heavily-doped was Davis that she might not have awakened so soon after her hellish ordeal. Hearing laughter on the piazza below, the scene of such recent gruesome events, she didn't comprehend at first that the very people she had so trusted, people doing their best to drive her insane, were laughing at her expense.
Davis wasn't long on the uptake. 'Can you see poor Cousin Charlotte's face when you, whom she has killed and buried, come walking in to sign her commitment papers?' a laughing De Havilland ask her dancing partner and partner-in-crime, Cotton. We see her face and the shock of realization so similar to, but different from, her earlier bewilderment.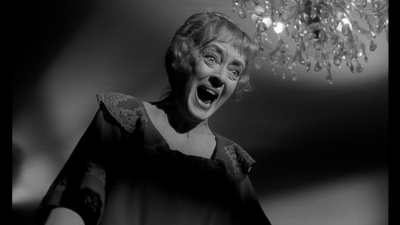 For the briefest moment the co-conspirators, beneath Davies' perch on the gallery glimpse her reaction, too. They see it just as she shoves the ivy-planted cast-iron urn from its plinth, before it crushes them.
Beset by cruel advisories, Bette Davis in Hush, Hush Sweet Charlotte, has only an oversize urn with which to stop their tortures. Thanks to Justin Spring, Selina Hastings, and Paula Byrne, the still benighted LGBT populace has three new masterful tomes among growing thousands, with which to less violently defend ourselves. Because of the dedicated labors of this trio, and other scholars who include Barbara Smith, George Chauncey, Martin Duberman, David Leddick, Thomas Wirth and Steven Watson, we can redeem our history, deliberately defamed and dismissively distorted, with a far more positive force, that's just as deadly decisive.